Print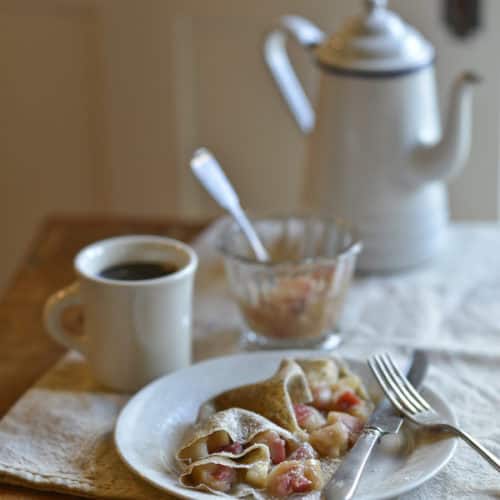 Applesauce Buckwheat Crepes
---
Description
The nutty goodness and firm texture of the buckwheat holds any filling, yet is still delicate and delicious. Crepes are fairly quick to make, and this recipe makes a big batch, which you can keep in the refrigerator to fill throughout the week or layer individually with waxed paper and freeze.
---
Scale
Ingredients
½ cup whole-wheat flour
½ cup buckwheat flour
½ cup white flour
1 teaspoon salt
4 large eggs
1 cup whole milk
4 tablespoons butter, melted
Olive oil, for skillet
---
Instructions
In a large mixing bowl, combine flours and salt. Add eggs and mix with a whisk to blend. Gradually pour in the milk and 1¼ cups water, whisking vigorously to prevent lumps. Add butter and continue to whisk until smooth. Cover and refrigerate for at least 1 hour. Before cooking, give it another quick whisk to blend again. (You can also make this in a blender or with an electric mixer fitted with a whisk.)
Lightly oil an 8-inch crepe pan, and place over medium heat. When pan is warm, lift from heat and wait 3 seconds, then pour in ¼ cup crepe batter while tilting pan so batter coats bottom evenly. Return to heat. Cook until lightly browned underneath, about 2 minutes. Turn the crepe with a thin spatula, and cook other side for about 1 minute. Transfer to a plate, cover with a plate or tea towel to keep warm, and continue until all the crepes are made.
You can either fill them while warm, or once completely cooled, wrap in plastic and store in the refrigerator for five days. Reheating on a dry skillet over medium low heat gives them a nice crisp exterior.
To fill crepes, spread about 3 tablespoons filling, then fold in half, and plate . Or roll into a tube, slice in half, then plate.
---
Notes
Spicy Apple Sauce |Makes 4 cups
Applesauce is so easy to make that there is no reason to buy it in the grocery store. Simply simmer sliced apples with a little water or apple cider until soft. Keep the skins on for added flavor and color. The type of apple will determine the cooking time: a firm Cortland will take slightly longer to cook than a soft Macintosh. Both can be pureed through a food mill, or served slightly chunky.
1/2 cup sugar
1/2 lemon, juiced
½ teaspoon cinnamon
1/4 teaspoon grated fresh nutmeg
1/4 teaspoon ginger
1/8 teaspoon powdered cloves
8 medium (2 pounds) cooking apples (Cortland or Macintoshes) skins on, cored, and thinly sliced
In a small saucepan, bring 1 cup water to a boil, add the sugar, lemon juice, and spices. With a wooden spoon, stir until the sugar is dissolved. Reduce the heat to low and simmer for 5 minutes to release the flavor from the spices.
Add the apples and cover. Cook over medium-low heat, stirring often until the apples are barely tender, about 10 minutes. Don't overcook the apples, as they will continue to cook off the heat.
For a smoother sauce, mash the apples with a fork or run through a food mill to puree. Serve warm or refrigerate and serve cold.
Keywords: Applesauce Buckwheat Crepes