Print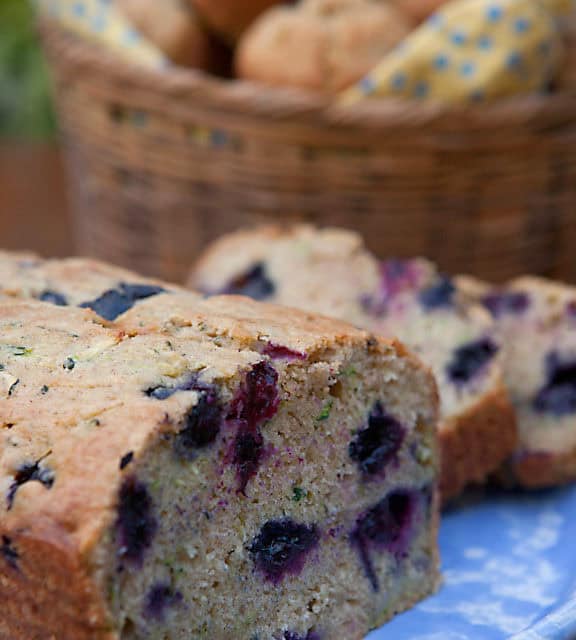 ---
Description
Everyone loves blueberry season and since they are ripening just as the zucchini is starting to get big, the two are natural partners for a tasty quick bread.
---
Scale
Ingredients
3 cups unbleached all-purpose flour
1 teaspoon ground cinnamon
1 teaspoon baking soda
1/4 teaspoon baking powder
1 teaspoon sea salt
1 1/2 cups sugar
12 tablespoons (1 1/2 sticks) unsalted butter, softened
3 large eggs
1 teaspoon pure vanilla extract
1/2 cup plain yogurt
2 cups grated zucchini (about 3 medium zucchini)
1 tablespoon lemon zest
1 pint fresh blueberries
---
Instructions
1. Preheat the oven to 350°F. Position a rack in the center of the oven. Lightly butter and flour a 9-by-12-inch baking pan or bread loaf pan, tapping out the excess flour.
2. In a large bowl, combine the flour, cinnamon, baking soda, baking powder, and salt. Set aside.
3. In the large bowl of an electric mixer, beat the sugar and butter on high speed until smooth.
4. Add the eggs, one at a time, beating well after each addition. Reduce the speed to low and beat in the vanilla and yogurt. Gradually add the flour mixture until combined.
5. With a wooden spoon, fold in the zucchini, lemon zest, and blueberries and stir gently until the ingredients are just blended. Pour into the floured pan and tap on the counter to even the batter.
6. Bake until a toothpick inserted in the center of the loaf comes out clean, 45 minutes to 1 hour. Cool in the pan on a wire rack for 10 minutes.
---
Keywords: Blueberry Zucchini Bread