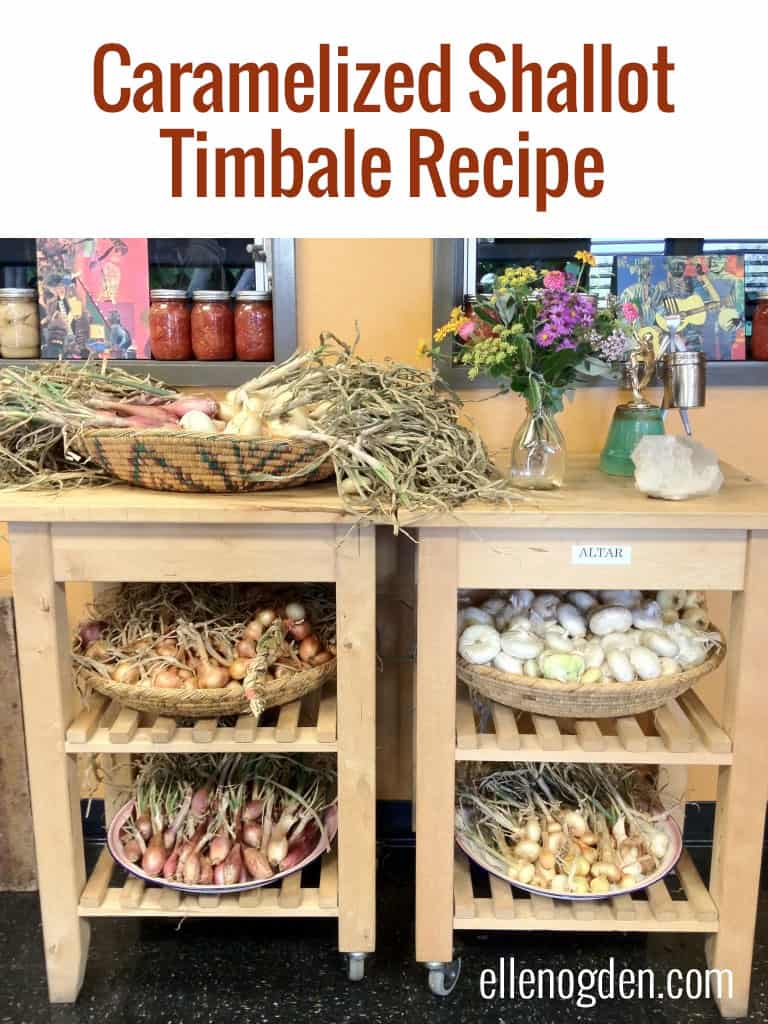 Shallots are one of the easiest alliums to grow, and actually pack a higher nutritional punch than the common yellow onion or leek. For this reason, I've taken to using them in just about everything I cook. After all, I cook for both flavor and health, so why not get both in one dish.
This recipe first appeared in my original cookbook, From the Cook's Garden, as a way to encourage gardeners to try growing something a little different. It's one of those special occasion side dishes because it uses a lot of shallots, heavy cream and eggs, but if you are considering making a fancy side dish for the holidays that will make your guests ask for the recipe, this may just be the one.
Caramelized Shallot Timbale
Serves 8
Deeply colored and intensely flavored, caramelized shallots give these individual custards the color and texture of pate and an extraordinary flavor that is hard to identify at the first taste. Serve with rich game bird such as Vermont quail or roast duck.
1 tablespoons olive oil
12 shallots, peeled but whole
1 cup vegetable broth
1 teaspoon finely chopped sage
1 tablespoon sugar
1 ½ tablespoons dry sherry
1 ½ cups heavy cream
4 large eggs
4 large egg yolks
Sea salt and pepper, to taste
Heat the oil in a medium skillet over low heat. Add the shallots and cook, stirring often, until the shallots are golden brown on all sides, about 30 minutes. Add the broth and sage and increase the heat to medium.
Cook at a rapid simmer, stirring occasionally, until the liquid has evaporated and the shallots are tender, about 10 minutes. Sprinkle with the sugar and cook, occasionally shaking the pan, until the shallots are glazed about 1 minute. Sprinkle with the sherry. Scrape the shallots and their juice into a blender or food processor and puree. You should have about ½ cup shallot puree.
Preheat oven to 350* and position the rack in the center of the oven. Lightly butter eight 4 ounce ramekins.
In a large bowl, blend together the cream, eggs, yolks and shallot puree, a pinch of salt and grinding of pepper. Whip until well combined, and then pour equal amounts of the mixture into the ramekins. Place the ramekins in a large roasting pan, pour hot water in the pan to come halfway up the sides of the ramekins. ( This is called a Bain Marie and is a traditional way to cook custard.)
Bake until the custards are set when given a slight shake, about 25 minutes, or when a knife inserted in the center comes out smooth. Remove from the oven and let stand 5 minutes. Run a knife around the inside of each ramekin and invert to unmold. Garnish with a sprig of parsley or thyme.