Print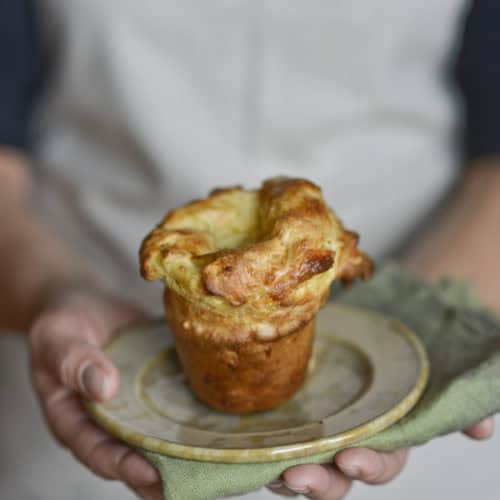 ---
Description
The first step  to perfect popovers is to invest in an authentic popover pan, which is deeper and heavier metal than a muffin tin. While you are whipping together the batter, preheat  the oven and melt the butter in the pans until smoking hot before adding the eggy batter. This will make sure the popovers rise and "pop over" the sides.
These are quick to make, and impressive to serve. Ideal for anyone who has backyard chickens and needs more great ideas for ways to use all those eggs, or needs a change from pancakes for breakfast. Bring straight the the table while piping hot. The recipe below has a bit of cheese added, to give them a little more flavor than a more traditional recipe.
---
Scale
Ingredients
3 tablespoons butter
1 1/2 cup all purpose unbleached white (or rye) flour
½ teaspoon salt
¼ teaspoon freshly ground pepper
3 eggs
1 1/2 cup whole milk
1/2 cup finely grated Vermont Cheddar cheese
---
Instructions
Preheat the oven to 450°F. Dot each of 6 popover cups with ½ tablespoon butter and place in the hot oven to preheat while you mix the batter.
In a small bowl, blend together the flour, salt, and pepper. In a medium bowl, whisk together the eggs, the milk and cheese, then gradually add in the flour mixture and whisk until smooth. There will be some lumps because of the cheese, which are fine because they add air. This can be done in an electric blender, but its best to do this by hand to keep the pastries light and tender.
Once the popover cups are smoking hot and the butter is thoroughly melted about 8 minutes, remove the pan from the oven and divide the batter evenly into each cup. Return to the oven and bake for 20 minutes. Reduce the temperature to 350°F. and bake another 20 minutes, until the popovers are golden brown. Remove from the oven and serve warm.
---
---