From Art to the Kitchen Garden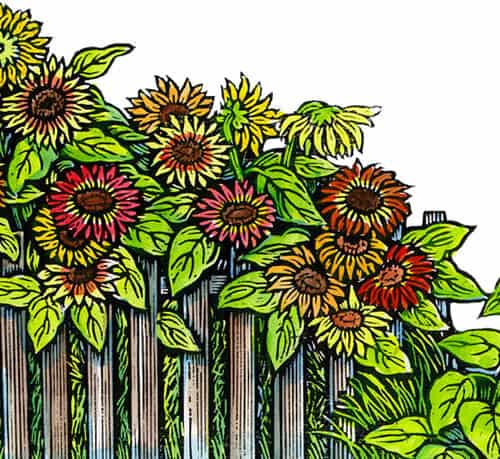 I planted my first garden in 1980, marking the perimeters with four sticks and a ball of twine. With a sharp-edged spade, I removed a thick layer of rugged turf, dug up the stony soil, then shoveled on the compost. Using the same four sticks and twine, I measured out long, straight rows before planting seeds for basil, lettuce, and arugula sprinkled them with water and walked away.
Fresh out of art school, I thought this might be a good way to feed myself. I would stretch the truth to say the garden thrived. There was a constant battle with the weeds, and the garden hose didn't quite reach, so the plants were frequently thirsty. Yet the thrill of dashing to the garden just before dinner to clip a few leaves of frilly Lolla Rossa and crimson Bull's Blood Beet greens for my salad kept me at it. I reveled in fewer trips to the grocery store in favor of wandering into the garden with bare feet and a harvest basket.
Building a collage of lettuce splashed with dabs of red orache, fronds of chervil, and rosettes of claytonia, seeds, and plants are my paintbrush. I studied classic garden design techniques and found inspiration from European-styled potagers and the long straight rows gave way to fancy arcs and geometric triangles.
I've turned my passion into a career, writing books and teaching classes on kitchen garden design and the art of growing food.
For more information: Ellen Ogden. CV. 2022