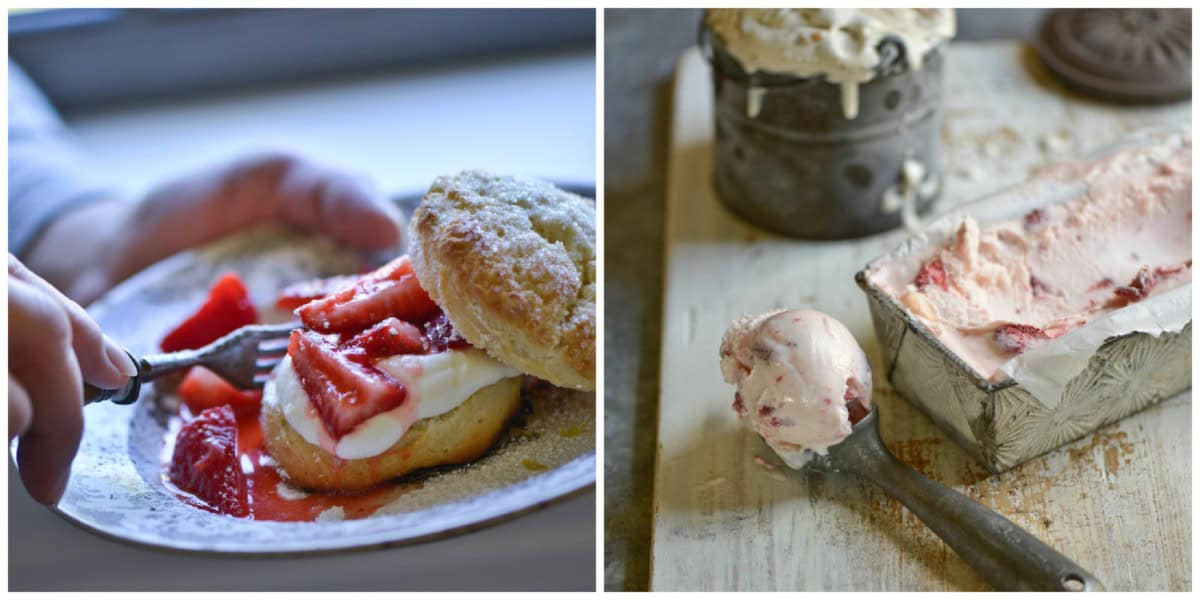 Sweet strawberries, ethereal whipped cream and light, fluffy cream biscuits combine to form the ultimate summer dessert. Leftover biscuits do freeze easily – reheat them directly from the freezer – but I can pretty much guarantee you won't have any leftovers! Makes 8 Large biscuits.
Extra strawberries? Follow this link to my recipe for strawberry ice cream.
Fourth of July Strawberry Shortcake
1 quart fresh strawberries, washed, hulled, and halved
¼ cup granulated sugar
Biscuits:
2 cups unbleached All-Purpose Flour or pastry flour
1 teaspoon salt
1 tablespoon baking powder
2 teaspoons sugar
1 1/4 cups heavy cream, enough to make a cohesive dough
1 tablespoons melted butter
2 tablespoons Turbinado sugar
Whipped Cream:
1 1/2 cups heavy cream, chilled
3 tablespoons sugar
1 1/2 teaspoons vanilla extract
1 teaspoon freshly grated lemon zest
In a medium bowl, mash 1 cup of the strawberries with a potatoe masher or fork to release juices. Then add the rest of the strawberries and sprinkle with ¼ cup of sugar and set aside to macerate at room temperature for several hours, or refrigerate if longer.
Biscuits:
Preheat oven to 425°.
In a mixing bowl, sift together the flour, salt, baking powder, and sugar. Stir in enough heavy cream to moisten the dough thoroughly. Just enough to gather the dough together, squeeze it gently, and have it hang together, without dry bits falling off.
Turn the dough out onto a lightly floured counter or cutting board, and very gently pat it into an 8″ circle about 3/4″ thick. Use a sharp 2 ¼" biscuit cutter (or you can use the edge of a drinking glass) to cut rounds. Brush the tops with melted butter, and place them on a lightly greased baking sheet.
Evenly sprinkle with Turbinado sugar, and place in the hot oven. Bake for 15 to 18 minutes, If you have any melted butter left over, brush it on the biscuits once they come out of the oven.
To make strawberry shortcake:
In the bowl of an electric mixer, combine heavy whipping cream with vanilla, sugar, and lemon zest, whipping until it barely holds its shape. Split oven-warm biscuits in half. Spoon whipped cream, strawberries, more whipped cream, on one half, then cove with the other half of the biscuit. Keep the bowl of whipped cream and strawberries nearby, to add more as you eat.
—-