Fresh Tomato Salsa with Maple Syrup| Makes 6 cups or 3 pints
In Vermont we add maple syrup to everything, including fresh tomatoes and herbs for a fresh, tangy salsa. The sweet syrup tames the acidity of tomatoes, add the small bite of hot peppers and it is an explosion of flavors.
Don't be daunted by the list of ingredients, it all comes together quickly. Serve this vibrant fresh salsa with chips, as a side condiment or simply spooned out of the jar. If you like to put food by for winter, fill sterilized hot mason jars and drop into a hot water bath to seal.
Print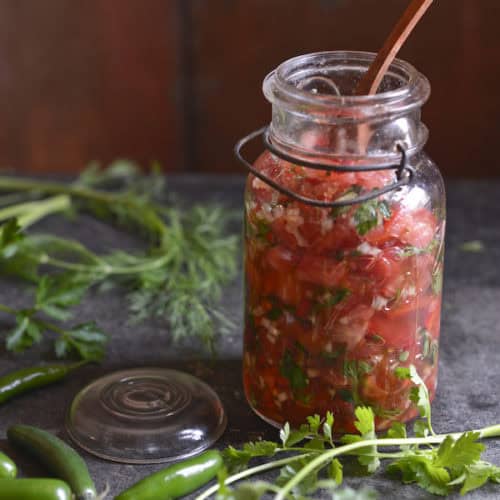 Fresh Tomato Salsa with Maple Syrup
---
Scale
Ingredients
6 medium vine ripe tomatoes (3 pounds)
2 sweet peppers, finely diced (2½ cups)
2 medium onions, finely diced (2 cups)
2 cloves garlic, minced (1 teaspoon)
1 Habanera pepper, minced (1 tablespoon)
1 Jalapeno pepper, minced (2 tablespoons)
¼ cup chopped fresh dill
¼ cup chopped fresh cilantro
¼ cup chopped fresh parsley
Juice of 1 lemon (3 tablespoons)
Juice of 1 lime (1 to 2 tablespoons)
1-teaspoon sea salt
1-teaspoon ground cumin
1/3 cup maple syrup
2 tablespoons soy sauce
---
Instructions
Trim the tops off the tomatoes and gently squeeze out the juice and the seeds from the interior cavities. Discard the insides and coarsely chop the tomato flesh into half-inch pieces and place in a large bowl. You should have about 5 cups of chopped tomatoes. Add the sweet peppers, onions, and garlic and set aside.
With a paring knife, trim the tops off the Habanera and the Jalapeno peppers; slice them in half and remove the seeds. (Be careful not to touch your eyes or your face and clean the cutting board, knife, and your hands carefully when done!) Slice and finely mince into very small pieces, adding them to the tomato and sweet pepper.
Add the herbs, juice from the lemon and the lime, salt, and cumin; finally, pour in the maple syrup and soy sauce. Mix together well, taste, and add seasoning. Place salsa in the refrigerator overnight so the flavors can blend. You may need to drain some of the liquid from the salsa that has accumulated overnight. Salsa will keep for up to a week.
---