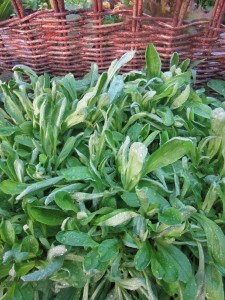 It's mid summer, and time to kick back and enjoy the garden. But the truth is that I  am still hunched over filling weed buckets, clipping spent blossoms and flicking Japanese beetles into jars of soapy water (making beetle juice?).  And I discovered a half price sale at my favorite garden center, and decided to create a new perennial garden.
It used to be that once Labor Day arrived I was happy to let everything go. Weeds would freeze, the garden turned brown, and I was in the kitchen cooking, canning and preserving everything from basil and tomatoes to the last crop of peas. But as my garden has shrunk in size, from a 3 acre vegetable garden down to a smaller kitchen garden, it's much more fun to keep it growing longer. I've found that mid-summer means its time to to plant a fresh bed of mesclun greens, spinach and mache, kale, collards and chard. I extend the season with cold loving crops that will continue to grow late into the fall to grace my table with hearty soups, gratins and savory tarts. Growing food is more fun when the garden is tidy and the crops are healthy.
This time of year I am also taking pictures to remind myself how magnificent the garden looks right now in its splendor. The artichokes are ready to harvest, the tomatoes have filled the 8 foot cages, and cucumbers are spilling into the path.
Here are five tips for enjoying your  mid summer kitchen garden:
Take photos: The best way to document what you are growing and to jog your memory when the garden is covered in snow is to take photos.  (Most of the time, it even makes it look better than it really is since a lens can be selective.) It also takes less time than writing  detailed notes in a garden journal.
Sow more seeds: Collards, kale, chard, lettuce and a variety of salad greens can be planted long into fall.
Weed: Be diligent and make sure weeds are removed from in and around the garden before they go to seed. Pull up from the roots so they don't regrow. (Harvest purslane for your salad bowl.)
Visit Gardens: Gardeners can always learn from other gardeners. Get out of your garden and visit friends who garden or go on a garden tour, such as the Garden Conservancy Tour to gather ideas for next year.
Side Dress: Add compost and organic fertilizer to vegetable and flowers mid summer to keep the soil rich and full of nutrients. Remember what you feed your plants will ultimately feed you!