Print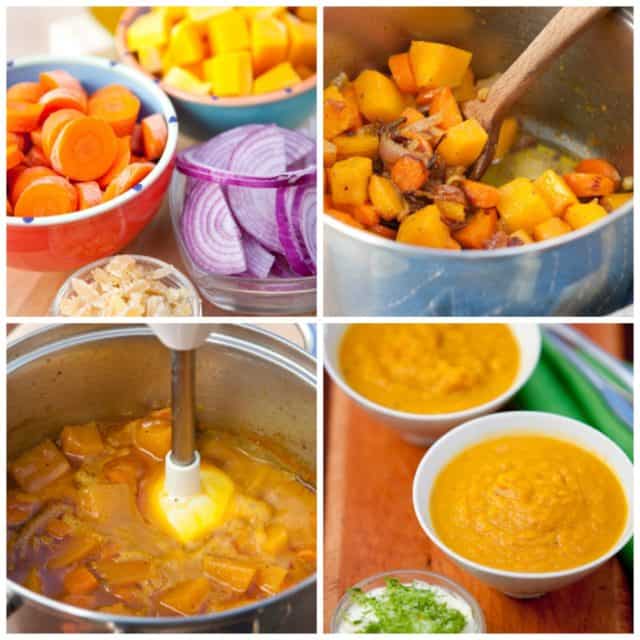 Ginger Carrot Soup with Creamy Lime Garnish
---
Description
Carrots and squash keep nicely in the root cellar, saved for winter recipes when a good soup is most appreciated. Roasting vegetables before adding them to soup brings out deeper flavors and the soup is ready in half the time, and makes the squash easier to peel. Garnish this soup with zest of lime and fresh cilantro for an aromatic finish.
---
Scale
Ingredients
1 teaspoon vegetable oil
6 medium carrots, scrubbed
2 medium shallots, peeled and quartered
1 medium butternut squash, cut into quarters lengthwise
2 tablespoons olive oil
2 tablespoons unsalted butter
2 cloves garlic, minced (2 teaspoons)
1 onion, coarsely chopped (1 cup)
1-teaspoon salt
2 tablespoons freshly grated ginger
1/2-teaspoon turmeric
1-teaspoon curry powder
1/2 teaspoon freshly ground black pepper
4 cups vegetable stock
1/2 cup crème fraiche or whole milk yogurt
Zest of 1 lime
---
Instructions
Preheat the oven to 400°F.
Lightly oil a 13 x 9-inch shallow baking dish, and spread the carrots, shallots, and squash in a single layer. Roast for 30 minutes. With a fork or tongs, remove the carrots and shallots to a cutting board (they will bake faster than the squash), and continue baking the squash for another 15 minutes until soft. Cool squash slightly, then scoop out the seeds and separate flesh from the skin.
Meanwhile, in a 4-quart stockpot, heat the olive oil and butter over medium heat. Add the garlic, onion, and salt. Reduce the heat to low and cook for 5 minutes, stirring occasionally, until onions are softened.
Stir in the ginger, turmeric, curry powder, and black pepper. Cook for 5 minutes to allow the fragrant oils from the spices to release. Slice the carrots into 1-inch lengths, coarsely chop the shallots, and add both to the stock pot, along with the squash. Cook for another 5 minutes, stirring occasionally, so the vegetables absorb all the flavors.
Pour in the vegetable stock and water, and adjust the heat to simmer the soup for about 25 minutes, until everything is tender. Test for doneness by spearing the larger pieces with a sharp knife. Remove from heat, and purée with an immersion blender or in a blender or food processor to a smooth consistency. Serve hot.
For the garnish, combine with the yogurt (or crème fraiche) and the lime zest. Drop a large tablespoonful in the center of each bowl of hot soup just before serving.
---