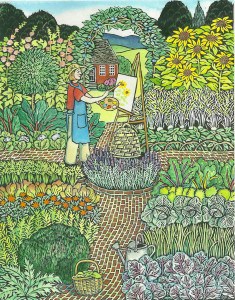 "Always keep something beautiful in your mind" — Pascal
Gardens produce memories, and what I place in my garden is usually sentimental as well as beautiful. Whether you are following the latest European garden trends to discover just the right blue-green color to paint the patio furniture, or the latest on ceramic fairy houses, garden art can add fun and whimsy to your garden. But there is a thin line between garden art and junk—and no doubt it's a matter of personal taste. If you are tempted by a giant toad for the boggy end of the garden or a plastic mushroom to tuck under a hosta, remember the words of one of my favorite garden designers, Tara Dillard: "Choose objects d'art that your kids will fight over when you are gone." In other words, make it special.
Growing Up
Consider building supports and structures because height is remarkably effective in creating drama in a kitchen garden design. We often think of vegetables as ground-hugging plants, yet many ornamental edibles enjoy climbing, rambling, and spreading from above. Provide an assortment of trellis materials for the purple pole beans, lemon cucumber cucumbers, ornamental gourds, and tomatoes to grow upwards, creating a wonderful vertical tapestry in the garden landscape.
I use simple bamboo poles harnessed together to form a tent or teepee. Sometimes I paint them bright colors, and I often plant an assortment of annual plants to weave together, forming elaborate tunnels and tents that are especially fun in the children's garden. Twisty twigs tied together at the top with twine are the perfect solution for sweet peas and climbing nasturtiums. When setting up a trellis, be sure that the poles are buried at least eight inches into the ground, to provide mature plants with a secure base.
Garden Tools
On the practical side, there are basic garden tools that are necessary, such as a good ball of twine, attractive raised beds, a compost system that really cooks food scraps, and tomato cages that won't tip over in a wind storm. I love these products, and recommend them to anyone who takes their kitchen garden seriously.
Cedar Raised Beds The Ultimate Raised Beds
Steve's Earth Engines Two bin cedar compost bins
Texas Tomato Cages Rugged and Collapsible
Wooden Dibbers Mark your rows and plant holes
Wild Garden Seeds The very best lettuce and salad greens
Trellis and Arbors Be prepared to start a wish list.
Away-to-Garden Website & Blog that's both fun and informative.