A natural rustic trellis is one of most beautiful ways to enhance and create a portal into the garden, and while the final result may look natural, it is not as easy to build as it may look. It takes measuring, a bit of skill and good tools, and a whole lot of creativity.
It was getting close to my birthday, when John popped that question all women want to hear. " What can I build for your garden?" I had just put in place a bamboo trellis to run the morning glories up and over, but I knew this was only a temporary solution.
"How about a rustic twig trellis?" I suggested.
Step One:
Harvest green saplings and bend them into shape – either in place by wrapping them around a piece of rebar, or as John did, by stripping off the branches and leaves, and wedging them between large stones to bend. Leave them for a few days until they hold their shape and dry, which takes about two weeks.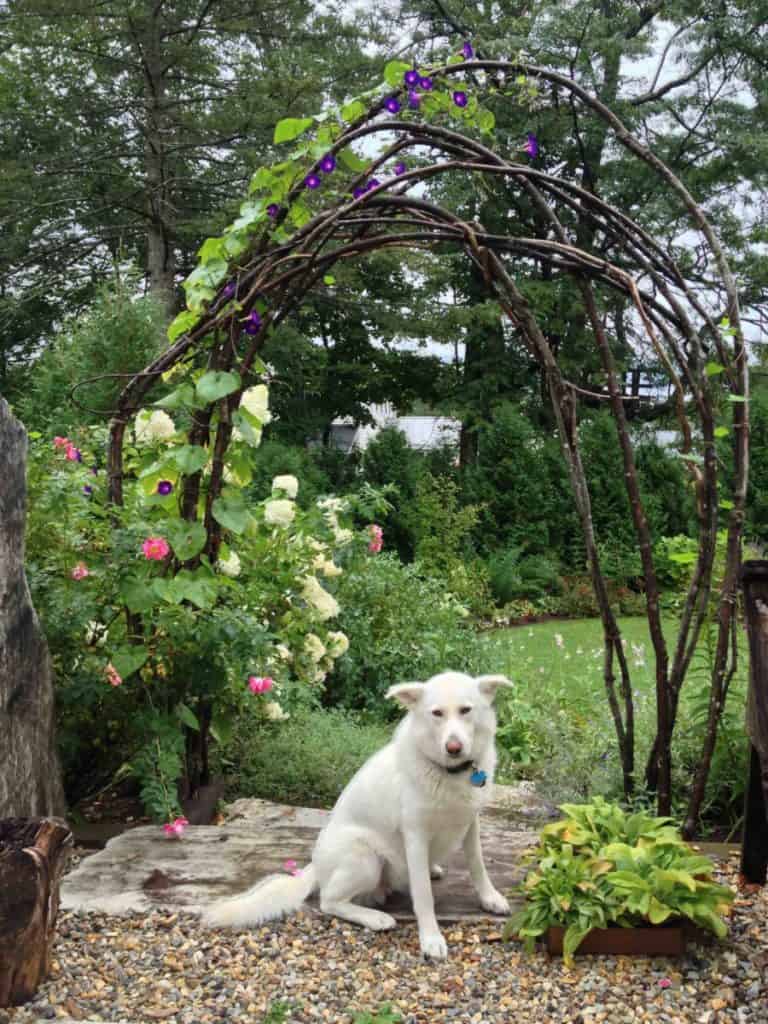 Step Two:
Two days before my birthday, he tied them onto the back of his truck, and brought them to my place.
Step Three:
Make a secure base for the saplings by drilling holes into a block of wood just large enough to fit the bent wood pieces into a slot. You will need two of these braces, one for either side of the walkway, and bury them into the earth with wood inserts to hold them in place.
Step Four:
Insert the bent wood into place, starting with the tallest piece first which looks a little high – about 7 feet tall – yet then as the other layers began to fit into place, the archway took on an elegant free-form shape.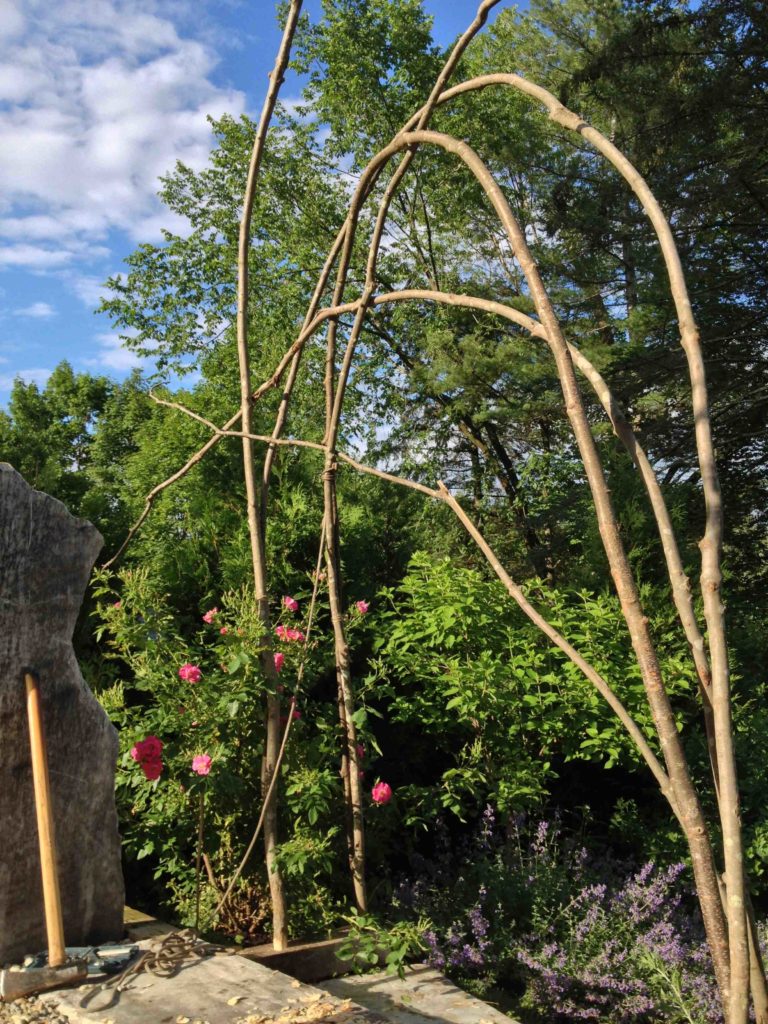 Step Five:
Once each piece of bent wood is securely in its place,  lash together with natural jute twine. When all the pieces are secured, the final act is to weave smaller pieces that will  curve around the larger pieces and tighten the gaps. These add a bit of character to the whole structure, with the outlying pieces springing away from the center, giving it natural flair.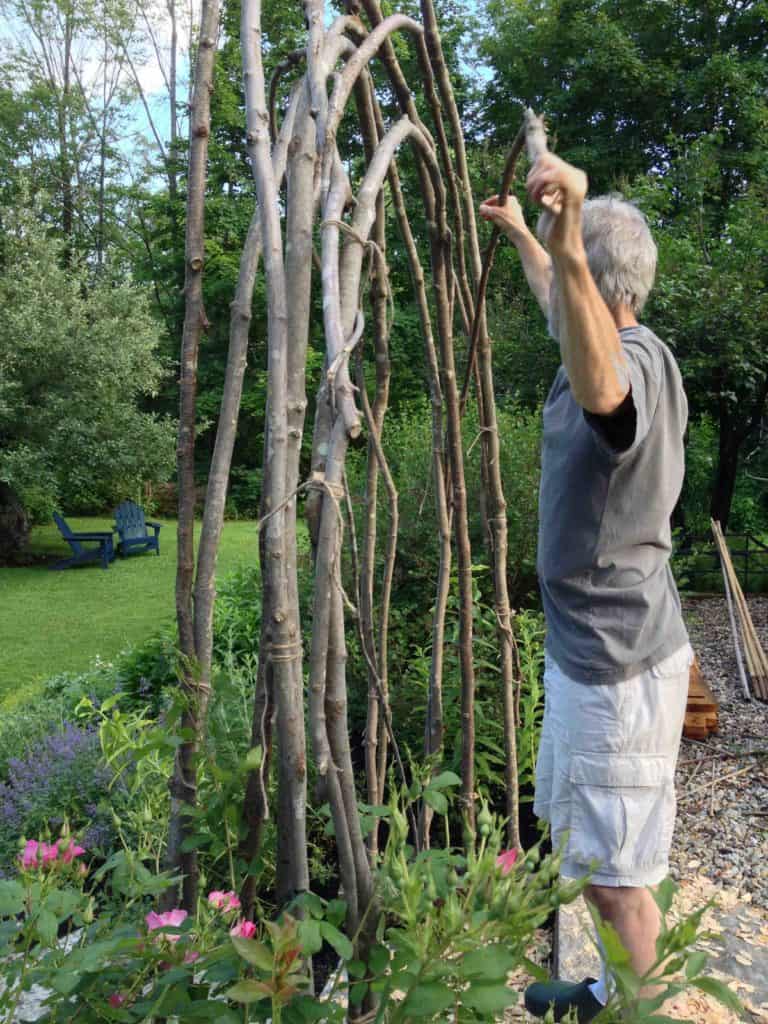 The final rustic trellis is a magnificent sculpture, that weaves together nature with art, and continues to change over time. The birds love to roost on the top, and the morning glories and William Baffin climbing rose grace the archway all summer until fall.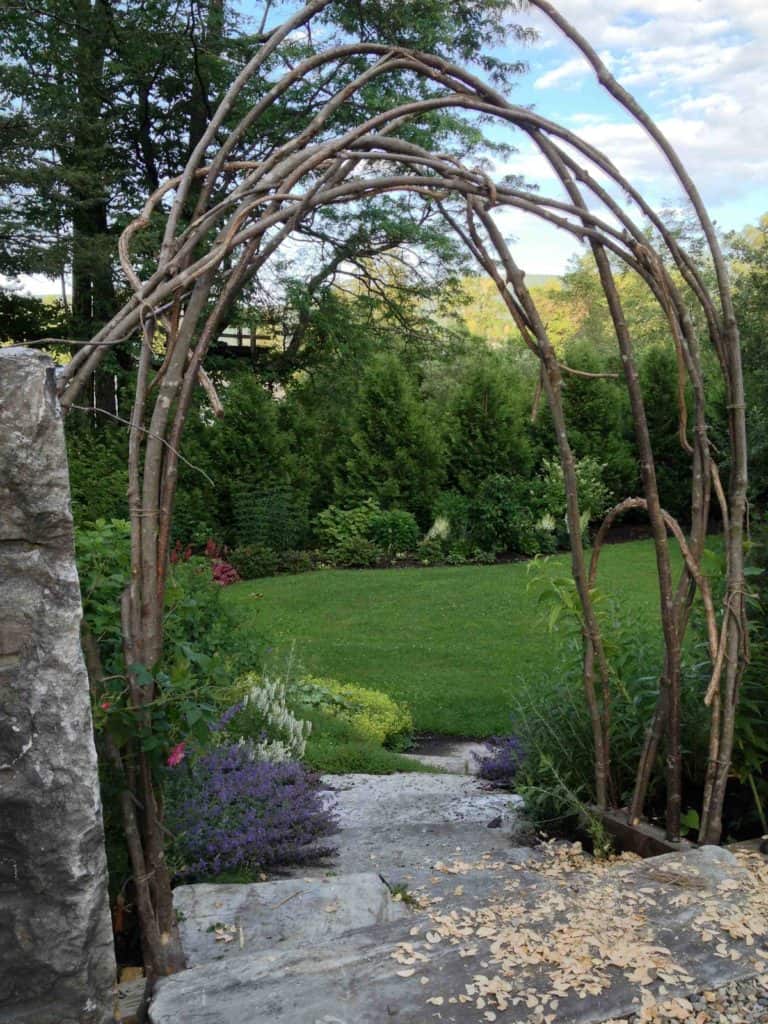 Sadly, a rustic trellis does not last forever and while this one has been in place for about five years,  it topples over every now and again in a strong wind or harsh winter. Each time, it is rebuilt in a new configuration that only adds to the charm.