Garden lecture with award-winning author, and kitchen garden designer.
Art of Growing Food  | European Styled Kitchen Gardens
55 Minute Lecture | Based on The Complete Kitchen Garden book | Hand-outs included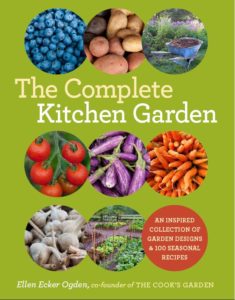 The Art of Growing Food brings art to the vegetable garden through plants, structures, and classic European potager design. In this lecture, I share kitchen garden designss to inspire the audience with fresh ideas. Whether renovating an existing garden or revitalizing your edible landscape, this lecture offers plenty of hands-on advice to elevate ordinary to extraordinary.
A kitchen garden is where the home and the garden merge, and in my six steps to successful kitchen garden design I show you how to design and grow a garden that is both beautiful and bountiful.
Start with a plan on paper, then add structure and areas of comfort.  Learn what to grow for the best flavor, fragrance, and  how to design the garden for beauty and productivity and to be a sanctuary of out door living.
Contact Ellen for availability and fees. Book Now for the 2022 season