Print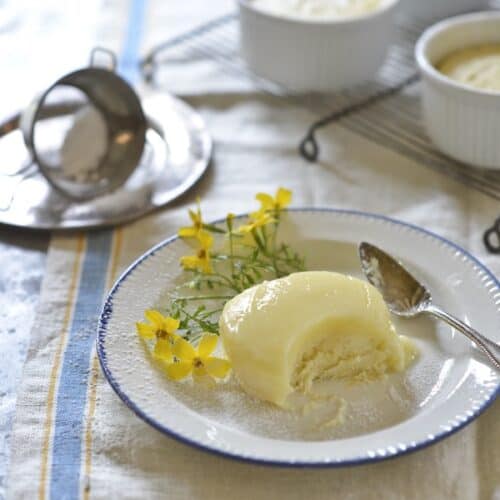 Lemon Custard with Lemon Gem Garnish
---
Description
These little gems come out of the oven like a crustless lemon meringue pie, with lemon custard that pools at the bottom waiting for your spoon. A classic lemon pudding cake baked into individual baking cups or in a single soufflé dish. Easy to make, impressive to serve, and a perfectly light sour-sweet dessert for a summer meal garnished with lemon gem marigold.
---
Scale
Ingredients
3 eggs, separated
2 tablespoons unsalted butter, softened, plus more for preparing ramekins
1 cup sugar, plus more for preparing ramekins
4 tablespoons unbleached all-purpose flour
½ teaspoon salt
2 lemons, grated rind (1 to 1½ tablespoons) and juice (6 tablespoons)
1 1/2 cups whole milk
Confectioners sugar for dusting
---
Instructions
Preheat the oven to 350°F. Butter six 6-ounce ramekins or individual soufflé dishes and lightly sprinkle with sugar.
In a large mixing bowl for an electric mixer fitted with a whisk, whip the egg whites until stiff. Transfer to another bowl and set aside. In the same mixing bowl wiped out, cream butter with the sugar, then add the flour, salt, and lemon juice and rind. Slowly add the egg yolks and then stir in milk, whisking until well blended.
Gently fold the egg whites into the mixture by hand, with a large spoon or whisk. Spoon into ramekins and place in a pan of hot or boiling water that comes halfway up the side of the ramekins. Bake for 45 minutes. Remove from the oven and the hot water and let cool for 5 minutes.  Run a knife around the inside edge of each ramekin and flip onto a plate; dust with confectioners sugar and serve.
---