Print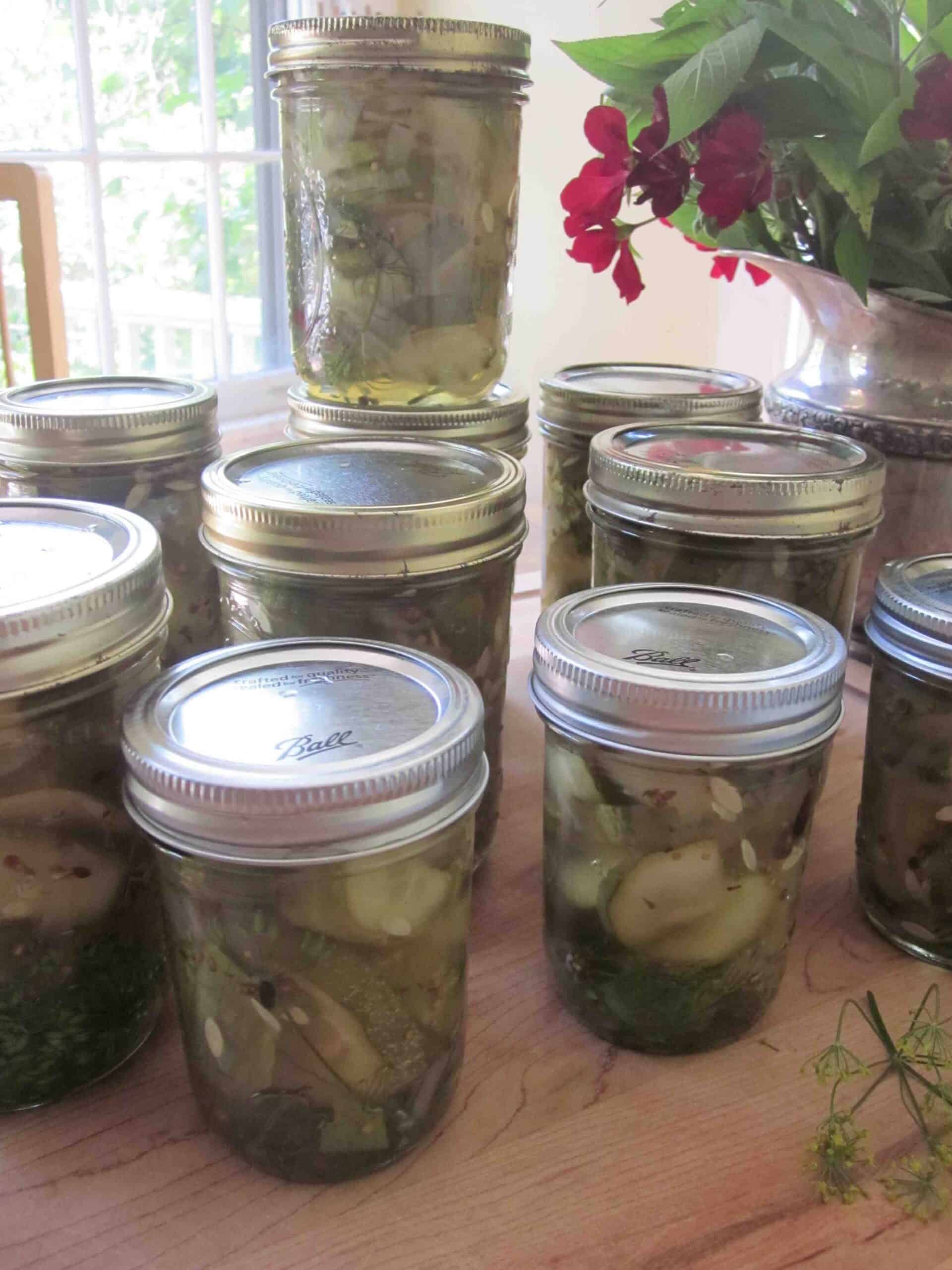 Sweet Bread and Butter Pickles
---
Description
The most difficult thing about making pickles is deciding which recipe to use. This is my favorite recipe for a sweet and crunchy bread and butter pickle, to dress up a sandwich or eat straight from the jar.  Grape leaves contain an enzyme that keeps the pickles naturally crisp.
---
Scale
Ingredients
24 medium (about 8 pounds) clean, whole pickling cucumbers,
6 small yellow onions, thinly sliced (2½ cups)
1 cup pickling or kosher salt
6 cups apple cider vinegar
6 cups sugar
½ cup yellow mustard seeds
1 tablespoon celery seeds
2 fresh cayenne hot peppers, seeded and minced
12 fresh grape leaves, washed
---
Instructions
Trim the pickling cucumbers into ¼-inch thick rounds
In a large bowl, combine the cucumbers, onions, and salt. Add cold water to cover and let stand for 3 hours or overnight.
Drain in a large colander and rinse well under cold water.
Bring the vinegar, sugar, mustard seeds, celery seeds, and cayenne pepper to a boil in a large stainless steel or enameled pot over high heat. Stir in the cucumber and onions. Cook just until the liquid reaches a simmer, but do not boil, as this will make soft pickles.
Place one grape leaf in the bottom of 12 pints of hot sterilized mason jars, using a wide mouth funnel, and ladle the hot pickles into the jars. Evenly distribute the pickles and the brine, leaving ¼ inch headroom.
Wipe the rims clean with hot water, and place rubber lids, and screw tops to seal. Turn upside down to vacuum pack. Place in hot water bath for another 10 minutes. Remove, cool, and label. Store in a cool, dark place for at least 3 months until crisp.
---