Print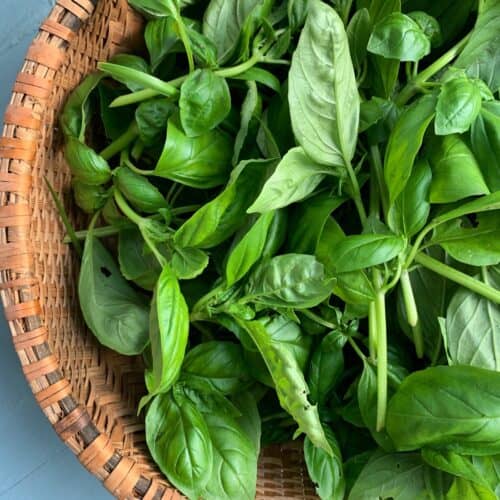 ---
Description
The first basil of the season is reserved for this chicken pesto summer salad. Perfect picnic fare, it comes together quickly, and children adore it. Seek out a local source for Romano cheese, which steps up the flavor. Heavenly grated over pesto pasta along with shredded chicken and halved cherry tomatoes.
---
Scale
Ingredients
2 cups packed fresh sweet basil leaves
4 cloves garlic, crushed
2/3-cup extra virgin olive oil
½ teaspoon each salt and pepper
16 oz. bag dry Fusilli or bow pasta (whole wheat or egg noodles)
2 cooked chicken breasts, torn into bite-sized piece
1-pint cherry tomatoes cut in half
½ cup chopped parsley
½ cup pine nuts or chopped walnuts, light toasted on stovetop or oven
¾ grated Romano Cheese
---
Instructions
In the bowl of a food processor, place fresh basil, garlic, olive oil, salt and pepper. Pulse until finely chopped, transfer to a large serving bowl.
In a large stockpot, bring 4 quarts water to a boil, with 1-teaspoon salt. When it comes a rapid boil, add pasta, and cook according to directions – yet undercook to keep pasta al dente. Taste test! When ready, drain and save 1 cup cooking liquid, which can be added to the basil pesto for more sauce and moisture.
Transfer cooked pasta to the bowl containing the pesto, toss well to coat. Combine cooked chicken, tomatoes, chopped parsley, roasted nuts and grated cheese, toss and serve.
---