Print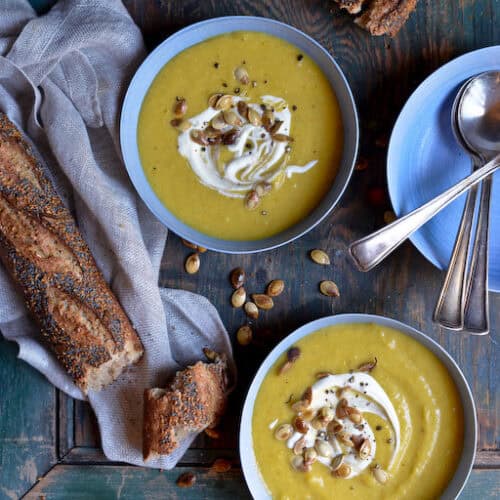 ---
Description
Creamy smooth pumpkin, a hint of apple, and a swirl of yogurt garnish, this curried soup is a fall favorite. French heirloom Galeaux d'Eysines or the Rouge Vif d'Etampes will decorate your porch, plus have exceptional flavor. Save seeds that care dried and saved for next year's garden.
---
Scale
Ingredients
1 small pumpkin
( about 2 pounds), preferably Galeux d'Eysines
1 yellow onion, peeled
and cut in half
2 large apples, preferably Cortland, cored and quartered
1¼ cups full-fat coconut milk
1¼ cups boiling water
¼ cup apple cider vinegar
1 (1-inch) knob of fresh ginger, peeled and diced
(2½ teaspoons)
1 teaspoon sea salt
1teaspoon curry powder
½ teaspoon ground cinnamon
¼ teaspoon freshly ground black pepper
Dash of grated nutmeg
Roasted pumpkin seeds,
for garnish
Crème fraîche or yogurt,
for garnish
---
Instructions
Preheat the oven to 425°F. Line a baking sheet with parchment paper.
Using a sharp knife, slice the pumpkin in half at the stem ends. Scoop out the seeds and save to dry for next year's garden. Slice each half into thirds, creating six pieces, and place them, cut-sides down, on the prepared baking sheet. Place the onion halves on the baking sheet along with the apples. Bake until the pumpkin is tender and easily pierced with a fork, 35 to 40 minutes. Remove from the oven and let cool.
Use a spoon to carefully scoop out the flesh, discard the skin, and transfer the flesh to a blender along with the roasted onion, apples, coconut milk, boiling water, vinegar, ginger, salt, curry, cinnamon, pepper, and nutmeg. Blend on high speed until silky smooth, about 2 minutes. Ladle the hot soup into bowls, and serve garnished with Creme Fraiche or yogurt.
---