Putting Food By is the title of a book about preserving the summer harvest season, written by three authors who were experts in the art. It was how I learned, and I still follow the precise guidelines for hot water baths to sterilize jars and add vinegar to make tomatoes more acidic.
A hundred years ago, the choice to preserve food was not an option, yet in today's world putting food by means taking time away from gardening, sports, and lounging in the shade.
Filling the Pantry
Call me crazy to spend a beautiful day in the kitchen, but here I am, steaming up the windows from the simmering kettles, making chutney, jam, and pickles.
As a gardener, I can't allow summer to pass by without making homemade condiments to place on the pantry shelves. It gives me a sense of satisfaction to see jars of fruit jam cooling on the windowsill, pesto packed into tiny jars, and inhaling the aroma of spicy ginger peach chutney as it simmers for hours on the stove.
My first introduction to ginger peach chutney was my neighbor, Faye, who brought me a jar as a gift. I had no clue how to use it, yet smiled and say thank you, while quietly tucking it into the pantry. At dinner one night, I took a chance, popped the lid, and served it alongside a baked chicken (which was perfectly cooked yet, a little bland). The dabs of ginger peach chutney blended perfectly with a fork full of chicken and a swipe of mashed potatoes and I have been a fan ever since.
Her recipe came along with sage advice. " You can't take shortcuts with chutney." She said. " It's not like making jam where you just add pectin, stir and fill up your jars. Chutney is cooked for a very long time on the stove, slowly. Like making a quilt, it takes patience, and every batch will turn out different."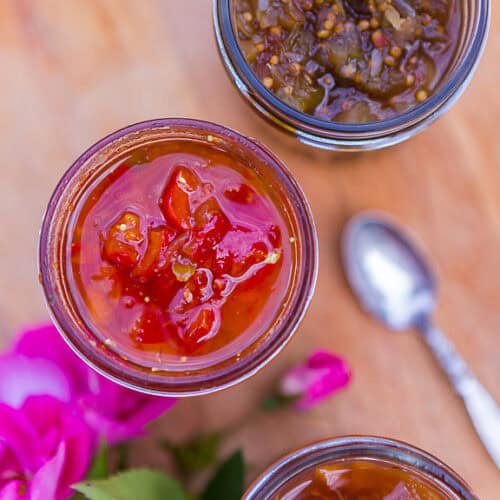 Chutney Basics
The history of chutney can be traced back to India and has been used for centuries as a digestive. The classic modern example of Indian chutney is the Major Grey mango chutney, which is a far cry from the complex flavors of a fresh homemade batch. Trust me, my recipe will change your mind about chutney and possibly inspire you to try other recipes for making fruit chutneys.
India has two kinds of chutney; pickles or "achar" which stores well for long periods, matures slowly and contains fruit, vegetables, and sometimes even fish and meat, all preserved in a brine. The second, and more authentic Indian chutney is made fresh at every meal, properly called "chatni" filled with shaved ginger, and hot green pepper ground together in a stone mortar and pestle, then combined with ripe fruit, herbs, and spices to make a paste, like basil pesto. This recipe is like a fresh chutney, yet preserved, and requires aging for a few months for the flavors to develop.
Americans have been making chutney for over 100 years, ever since the English settlers brought their recipes from home and everything from the garden and orchard was preserved; carrots, beans, onions, cucumbers, and tomatoes. Every kind of fruit and vegetable that was grown on the farm was immediately pickled and chutney was standard fare. Making a brine with two parts sugar and four parts vinegar is key.
Canning Basics
Making chutney or any condiment starts with a basic knowledge of canning, and a foundation of equipment such as several large kettles; one for cooking the fruit while the other is used to simmer hot water for sterilizing the mason jars. Lots of counter space is helpful for any type of putting food by since often I'll have several recipes going at once.
Ginger Peach Chutney is full of hot pepper and ginger, with ripe peaches to bring out the sweet flavor. You can use it as a sideline to curry, melt onto a cheddar cheese sandwich, or add a dab to deviled eggs. Blend chutney with equal parts mayonnaise or yogurt for a nice dressing over mustard greens or as a dip for baby carrots and broccoli florets. It makes a pretty good basting sauce for barbecued pork and chicken, too.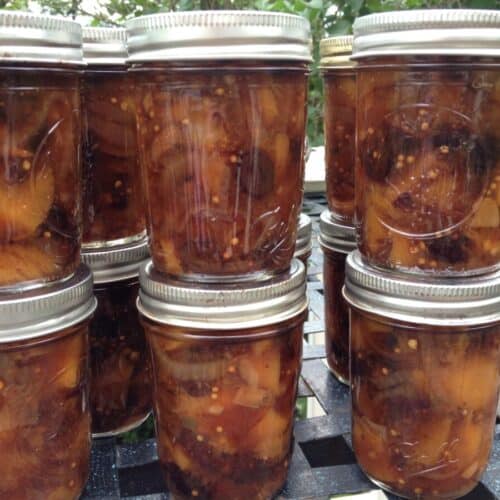 Every year, when I bring up the kettles for putting food by and look up my recipes, I am reminded of another piece of advice from my chutney-loving neighbor: "It's like driving on snow and ice for the first time in winter," she said. "Take it slow, and remember that it gets easier the more you do it."
Yup, that's exactly what I'm doing this week. Tell me, what condiments are you 'putting by' this summer?
From my garden to yours,
Ellen Ogden