Print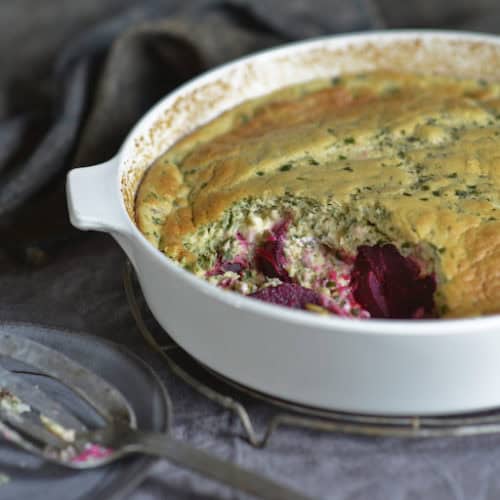 ---
Description
Spoon bread is an elegant way to serve beets: their red juices bleed into the yellow soufflé to create an unusual rainbow effect. Farm-raised eggs make all the difference in flavor and color in this recipe. 
---
Scale
Ingredients
2 tablespoons extra-virgin olive oil, plus more for the dish
2 medium beets, preferably Detroit Red
¼ cup Cointreau or another sweet fruity liqueur
Zest and juice of 1 lemon
1 teaspoon sugar
½ teaspoon freshly ground coarse sea salt
¼ teaspoon freshly ground black pepper
4 tablespoons (½ stick) unsalted butter
2 tablespoons grated Parmigiano-Reggiano cheese
½ cup crumbled soft chèvre goat cheese
3 tablespoons all-purpose flour
1 cup half-and-half
½ cup finely chopped steamed beet greens
4 large eggs, separated, at room temperature.
---
Instructions
Put one rack in the middle of the oven. Preheat the oven to 400°F. Lightly oil a 9 × 12-inch baking dish or 8 inch round soufflé dish.
Scrub the beets and trim the stem ends to 1 inch; keep the root ends and peels intact. Toss the beets with the olive oil, place in the prepared baking dish, and cover with foil or an ovenproof lid. Bake until the beets are tender all the way through, about 45 minutes; insert a sharp knife in the beets to test for doneness.
Remove the dish from the oven. Cool the beets slightly, rub off their skins, and thinly slice the beets or chop them into 1-inch cubes; there should be about 2 cups. Transfer the beets to a medium bowl and add the Cointreau, lemon zest and juice, sugar, salt, and pepper.
Butter the inside of a the baking dish or soufflé dish with 1 tablespoon of the butter. Sprinkle the bottom of the dish with the grated Parmigiano–Reggiano, then lay the beets evenly on the bottom of the dish, reserving the liquid, and crumble on the goat cheese.
Prepare a béchamel sauce by gently melting the remaining 3 tablespoons butter in a medium saucepan over medium-low heat. Slowly whisk in the flour, stirring continuously and let it gently bubble without browning for a few minutes. Gradually add the half-and-half, whisking constantly until thickened. Stir in the chopped beet greens. Remove the pan from the heat and cool slightly. Whisk the egg yolks, one at a time, into the cooled béchamel sauce.
Place the egg whites in a medium bowl or the bowl of a stand mixer fitted with the whisk attachment. Beat the egg whites until they form soft, stiff peaks, about 5 minutes. Fold the beaten egg whites into the béchamel Sauce, then pour the sauce over the beets in the soufflé dish, and gently smooth the top. Place the dissh in the oven on the middle rack. Bake until puffed and golden brown, about 30 minutes. Serve immediately.
---