Raspberry Peach Jam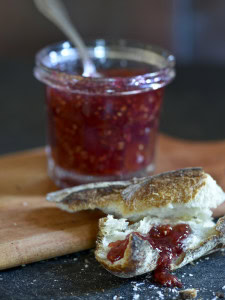 Makes 6 pints
Raspberries and peaches are old friends, and ripen at the same time during the summer, so why not put them together into a jam?  Chunks of sweet peaches blending nicely with the tartness of the raspberries, it's pure summer in a jar to spread onto toast on the grayest winter morning.
Jam is a breeze to make, and takes only a bit of practice to make sure it all comes together. I learned early on not to skimp on the sugar, as tempting as it is, because the jam won't jell properly. Always use hot, sterilized jars, fill and flip upside down to seal, then be sure to flip the jars back again before the jam settles, or there will be an odd gap at the bottom of the far.
*The first step is to peel the peaches: bring a pot of water to a boil over high heat. Add the peaches and cook until the skins loosen, about 1 minute. This step will take long if the peaches are not ripe, and take care not to actually cook the peaches. Using a slotted spoon, transfer the peaches to a bowl of cold water to stop the cooing. The skins should then slip off easily.
4 ripe peaches, ( about 2 pounds) peeled*, pitted and cut into ½ inch dice
2 pints fresh raspberries
2 lemons, juiced (¼ cup)
6 cups sugar
One 3-ounce pouch liquid pectin
In a medium bowl, stir the peach, raspberries and lemon juice together. Measure out 4 cups and transfer to a large stainless steel or enameled pot. With a wooden spoon, stir in the sugar and bring to a boil over high heat, stirring often.
When the mixture reaches a rolling boil, one that can't be stirred down, boil hard for 1 minute be sure to stir constantly to prevent scorching. If you have a candy thermometer, place it in the kettle and watch until it reaches 220°F . While it is coming a boil, open the envelope of liquid pectin, and set aside upright in a cup.
Turn off the heat, and immediately stir in the pectin. Skim off the foam on the surface of the jam with a metal spoon., and continue to stir for 5 minutes, skimming as needed, to blend the pectin.
Wash and sterilize 6 pints mason jars, and ladle the hot relish into the jars. Wipe the rims clean with hot water, and place lids and seals. Turn upside down to vacuum pack. Place in hot water bath for another 10 minutes. Remove, cool and label.
Adapted from The Vermont Country Store Cookbook.
Printer Friendly Recipe: Raspberry Peach Jam: