Print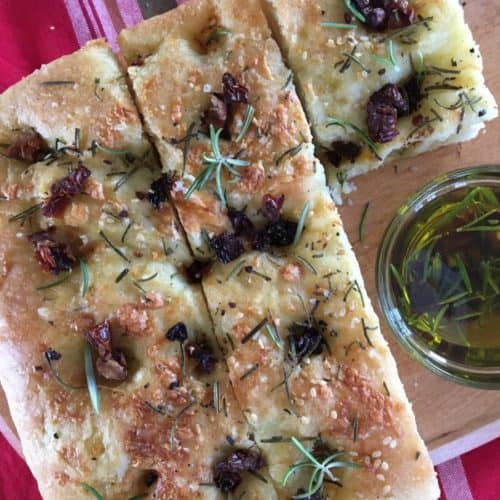 Rosemary Focaccia with dipping sauce
---
Description
Fragrant rosemary is perfectly paired with olive oil in this classic Italian bread known as focaccia. Served alongside butternut squash soup or with a side of rosemary dipping sauce, the coarse sea salt brings out a depth of flavor, and a light crunch with every bite. Ideal recipe to get kids to help in the kitchen, they love to press the dough flat and make indentations with their fingers.
---
Scale
Ingredients
1-cup warm (105*-115*) water
One .25 oz. (2 ¼ teaspoons) active dry yeast
1 teaspoon granulated white sugar
¼ cup + ¼ cup extra virgin olive oil
1 teaspoon + 1 tablespoon coarse sea salt
3 cups unbleached white flour (can be part whole wheat)
1 tablespoons sesame seeds, optional
2 tablespoons chopped fresh Rosemary
2 tablespoons freshly grated Parmesan cheese ( or grated cheddar)
¼ cup chopped sun dried tomatoes, reconstituted
---
Instructions
In a large mixing bowl, pour the water and sprinkle the yeast on top, give it gentle stir. Allow the yeast to activate, for about 2 minutes it will look foamy. Stir in the sugar and let it grow for another 5 minutes. Add ¼ cup of the olive oil and 1-tablespoon salt, and blend, either by hand or with a dough hook. Add the flour I increments, ½ cup at a time, until it all blends together and forms a sticky, yet pliable ball.
Turn out onto a lightly floured surface and knead adding just enough flour to keep it from sticking to the board. Knead until it does not need more flour, and when two fingers are pressed into the dough it bounces back, about 6-8 minutes. Place in a warm, draft free location while it rises until double, about 1 ½ hours. Punch the dough once to deflate.
Lightly oil a 9 " X 12" low-sided baking dish. Sprinkle with sesame seeds evenly on the bottom of the pan. Transfer the dough to the pan and gently press and stretch with your hands to evenly fit the dough into the pan pressing into all four corners. Place in a warm draft free location, and allow the dough to rise again until almost double, about 45 minutes.
Preheat the oven to 400* Press with your fingers evenly across the dough about 12-15 indentations on the top. Pour the olive across the top and scatter the fresh rosemary, sundried tomatoes and remaining 1 tablespoon coarse sea salt. Once oven is pre-heated, slip into the hot oven and back 25- 30 minutes until golden brown.
Remove from the oven and serve hot with the rosemary dipping sauce below, or was a side with soup.
---
Notes
Rosemary Dipping Sauce | makes ¼ cup
Combine in a small bowl: ¼ cup extra virgin olive oil, 2 tablespoons chopped rosemary, 1 tablespoon chopped sun dried tomato or chopped garlic.
---
Nutrition
Serving Size:

Makes 12 servings | One loaf pan 9 X 12