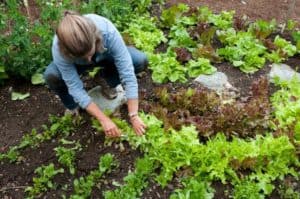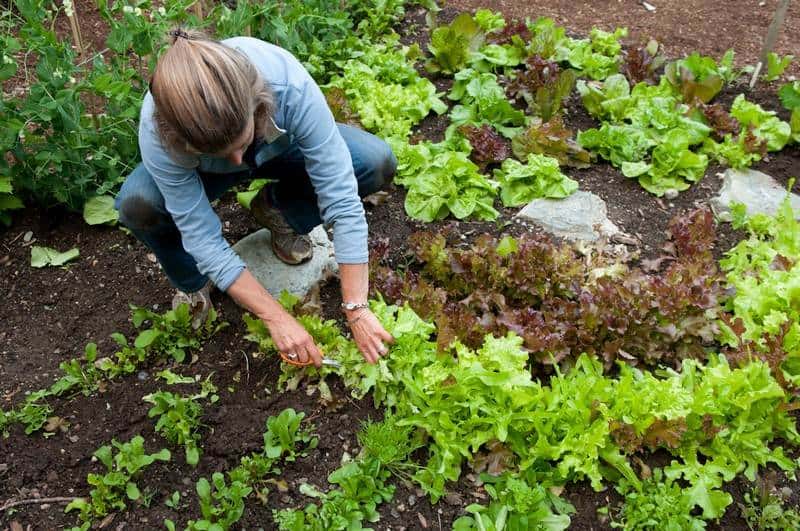 SPRING GREENS are my only hope, as I wait for winter to end. I gaze longingly out my kitchen window for signs of spring and imagine the first tiny, tender shoots that will emerge in the garden, thinking about all the food that I can grow.
It only takes a few seconds to push a seed into the soil, and soon I will tear open a packet of Meslcun, shake the seeds into the ground, press, water and walk away. It's like an unspoken promise that a harvest of frilly lolla rossa, tender claytonia and baby arugula will emerge, and my first real salad will be only a month away.
Sowing seeds and watching food grow goes back to the fist hunter-gathers, but in this land of plenty, growing food has become both a luxury and a necessity.  What we chose to grow and use the limited space that our gardens offer, can make the difference between an ordinary garden, and one that is overflows with abundance and good health.
What to Grow

Tomatoes are America's number one crop to grow in a garden, but you won't find them on my list. Not because I don't love them, but they take up valuable space, and time to grow, plus they are heavy feeders which deplete the soil. Leave tomatoes to the experienced growers who have space to spare, and instead focus on fast growing, nutritious crops that offer you something you can harvest every day and can be grown in small gardens.
If a good gardener is someone who makes growing food look easy, then perhaps its time to give up the hard stuff, in favor of something easy, like salad greens. Most salad greens grow easily from seed, so it is a good place to start.
Growing a vegetable garden is a choice we make for convenience, but also for our health. It can even save you money if you plan it right. If you have limited space and time, focus on these top five plants to grow in your kitchen garden. It will make you feel more successful, and you will also be better fed.
Meslcun offers convenience to the gardener who is limited on space and time. In each mixed packet of a meseclun mix, you'll find a range of piquant herbs including mustard, arugula, herbs, lettuce and chicories. Mesclun is cut-and-come again which means once harvested; the seeds re-sprout for second "free" harvest. Meslcun is rich in vitamins and minerals and ready in under 30 days from seed to salad bowl. Keep sowing seeds successively every two weeks to guarantee fresh harvest from April through November.
Fresh Culinary herbs enhance the flavor of all recipes, and the plants are adaptable to most soils. Their ornamental and aromatic qualities of homegrown surpass anything you will buy at the store. If you are unfamiliar to culinary herbs, growing them is the best way to let them teach you how to taste, smell, savor the whole plant. Start with seeds for basil and dill and most annuals, buy plants for perennial Chive, Thyme, Sage, Summer Savory, Marjoram and Rosemary.
Edible flowers add a splash of color on the plate, and in the garden. Edible flowers attract beneficial pollinators to your garden, such as bees and hummingbirds, which is a win-win for everyone. My favorites are Borage, Nasturtium, Calendula, Clary Sage, and Hyssop. Many culinary herbs produce lovely edible flowers, too, such as chives, Lavender and Basil.
Rainbow chard, kale and collards are easy to buy, yet also easy to grow. Just a few plants provide an abundance of healthy greens over a long season. Like magic, the more you grow the more it will produce. Start with seeds or plants for Rainbow chard and Black Tuscan Kale.
Lettuce: There are over 150 types of lettuce available to gardeners that offer a range of colors, leaf patterns and flavor. Yet you will only find a dozen or more in the markets. Seek out the most beautiful lettuce you can find and sow seed directly into a pot. Choose loose-leaf varieties for cut and come again convenience or heading types that will be ornamental as well as edible. Seeds or plants, either will be ready between 30- 45 days for harvest.
Seeds or Plants?
Seed catalogs tempt the gardener with full color photos and the promise of instant success. The truth is that not everything grows easily from seed, and sometimes it makes more sense to start with an established plant. Knowing when to grow from seed and when to buy as a plant can take a few years of trial and error. Learn to read the seed catalogs carefully because prices for seeds will vary between companies, looking for information on seeds per packet, germination and days to maturity. Become a seed saver and allow one or two plants to ripen into a seed pod and harvest seed at the end of the season for next years garden.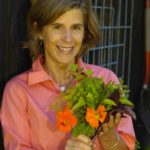 Ellen Ecker Ogden is the author of The Complete Kitchen Garden, designs and recipes for cooks who love to garden.