Print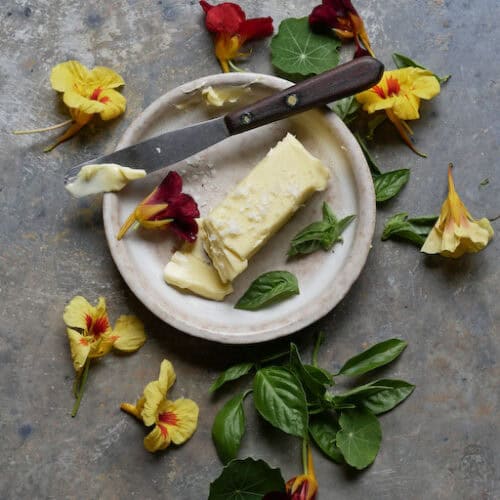 ---
Description
Making summer herb butter is one of the best ways to preserve the flavor of fresh herbs. Harvest edible flowers and fresh herbs, and stir into softened butter, wrap in waxed paper and form into a tube. Chill in the refrigerator or deep freeze for winter. When ready to use, slice a good-sized nugget to place onto steamed or grilled vegetables, cooked grains, or toss with pasta instead of pesto. For an extra decorative touch, spread softened herb butter in a layer in a small baking dish, refrigerate until firm, and cut out shapes with a miniature cookie cutter.
My recipe for summer herb butter is made with summer herbs such as basil, dill, parsley and nasturtiums. Feel free to substitute with any fresh herbs you have growing in your kitchen garden. If harvested mid-summer, most all the herbs will grow back for another batch.
---
Scale
Ingredients
1 stick (8 oz.) unsalted butter, room temperature
1–2 fresh shallot, garlic or green onion, finely minced
2 sprigs (1 tablespoon finely minced) fresh dill
2 sprigs (1 tablespoon finely minced) chervil
6 leaves (2 tablespoons finely minced) sweet basil
6– 8 nasturtium flowers
½ lemon, zested and juiced
½ teaspoon coarse sea salt
¼ teaspoon freshly ground black pepper
---
Instructions
In a small bowl, combine the butter, shallots, finely chopped herbs, lemon juice, salt and pepper. Whip  together with a fork until blended. Transfer to a small bowl, cover and refrigerate to use later int he day. Or transfer to a square of waxed paper and gently roll into a long tube, secure the ends and place in the freezer. Be sure to label and mark so you can identify later.
---