Everyone grows tomatoes, and it seems everyone has their favorites. Mine have always been the Yellow Persimmon tomatoes, followed by Green Zebra and Big Rainbow. This trio are gorgeous in the garden, and stunning on a plate layered with basil and mozzarella cheese.
It's hard not to give every inch of the garden over to this jungle vine that can grow rampant if not trimmed and caged. This year, with all the rain in Vermont, it's been a tough season for growing tomatoes. Even the basil suffered from lack of sunshine. But given that tomatoes are available in the farmers market, I'm all set.
It's no secret that lemon makes everything taste better, and in this scrumptious summer salad it brings out the contrasting flavors and balances the sweet with the tart.  Thinly slice the tomatoes, layer with lemon basil or sweet Genovese and spoon the dressing over each layer to coat. Let the tomatoes sit at room temperature for an hour  to soak up and release the natural juices. Make more than you think you will need because the leftovers get even better the next day, with plenty of good bread for dipping.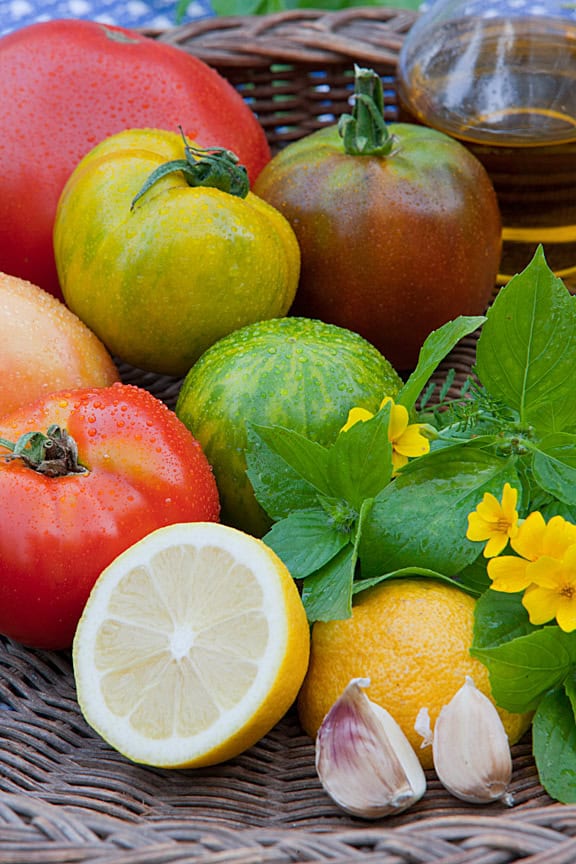 Rainbow Tomatoes with Lemon Basil Dressing
Makes 4 servings
This simple dish is a wonderful way to show off multicolored heirloom tomatoes from your garden. It's especially nice to overlap slices of red, yellow, green zebra, and purple tomatoes, scattered with the finest shreds of lemon basil for a hint of citrus. Add to layers of mozzarella and serve with crusty bruschetta for an appetizer.
6 large ripe tomatoes, preferably three different colors
8 large fresh sweet basil leaves
8 lemon basil leaves
1/2 pound freshly made mozzarella cheese
1/4 cup extra virgin olive oil
Juice of 1 lemon
Coarse sea salt, to taste
Freshly ground black pepper, to taste
Bruschetta (see below)
1. Cut the tomatoes into 1/2-inch-thick rounds. In a shallow dish with a 1-inch rim, arrange the rounds, slightly overlapping, in a single layer.
2. Chiffonade the basil and scatter over the top. Thinly slice the mozzarella and insert pieces in between the tomatoes.
3. Whisk together the olive oil and the lemon juice, and season with salt and pepper. Pour the dressing evenly over the tomatoes, cover loosely, and let stand at room temperature to marinate for at least 30 minutes. Serve with warm bruschetta.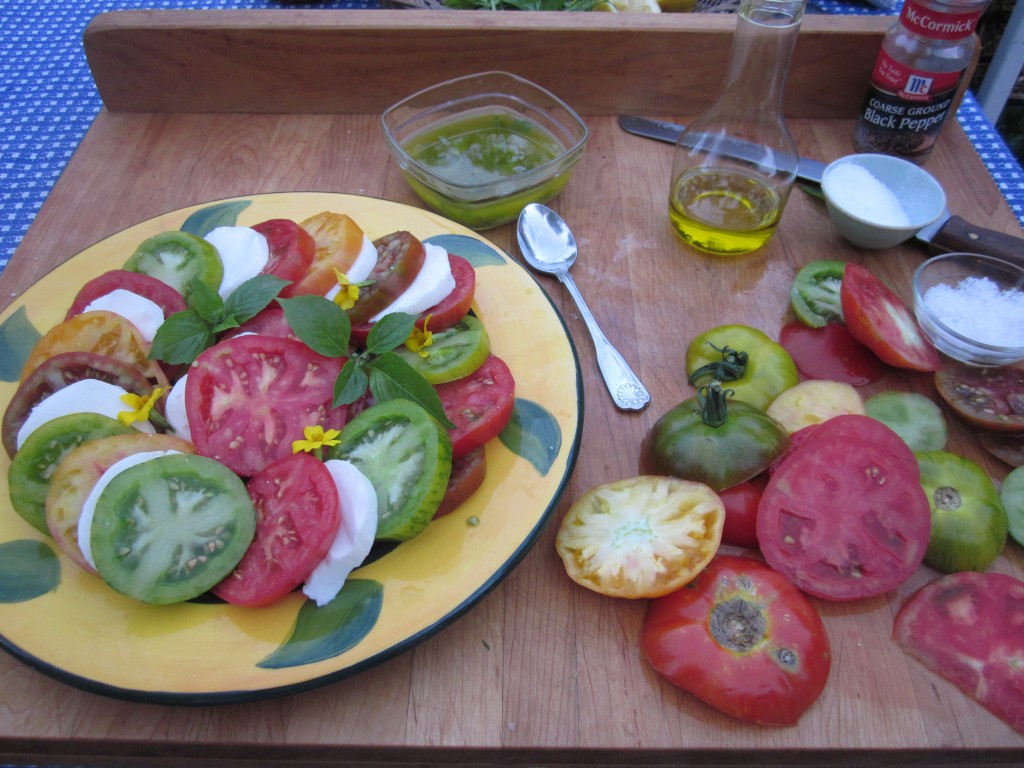 Bruschetta
Makes 24 small slices
1/2 loaf baguette or Tuscan bread
1/4 cup extra virgin olive oil
3 cloves garlic, peeled
1. Preheat the oven to 450°F.
2. Cut the baguette or bread on a diagonal into 1/2-inch-thick slices. Using a pastry brush, coat one side of each slice with olive oil. Place the slices on a cooking sheet, olive oil side down. Position a rack at the top of the oven, and place the cooking sheet on the rack. Toast for 5–6 minutes, until the bread just begins to turn golden brown.
3. Remove from the oven. With a sharp knife, score each slice 3 times. Rub the garlic on the slices and brush with more olive oil on each slice.