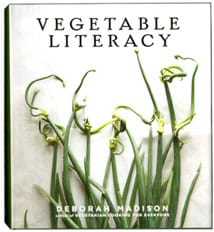 VEGETABLE LITERACY  Book Review
Cooking and Gardening with Twelve Families from the Edible Plant Kingdom. Written by Deborah Madison.
Ten Speed Press, 2013. 416 pages. Hardcover: $40
For most gardeners, planting a garden is all about flowers, yet for cooks it is about food. Leave it to Deborah Madison, author of Vegetable Literacy and leading authority on vegetarian cooking to inspire gardeners and cooks to take time to pay attention to how botany affects flavor.
This book was published a few years ago, yet Vegetable Literacy remains a significant book and unique in the world of cookbooks, as it challenges the way most of us think about edible plants. Author of eleven books on cooking, Madison has chosen twelve plant families to focus on, whose edible members are those we are most familiar with at the table. While her muse was a single carrot that went to seed in her garden, it is clear that ample research went into this endeavor.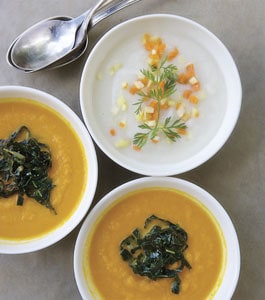 With a keen eye and a clever palate, Madison introduces the reader to the structure of the plant world in order to build perfect flavor combinations. "Because the garden is the other side of the kitchen, it helps to have some ideas about how to use what we grow, how plants relate to one another on the plate as well as in the garden bed." She writes. The prose is both warm and personal, with recipes that reflect her iconic style; crisp flavors that honor the vegetable seasoned lightly with herbs.
If the cover alone does not intrigue you, (stunning photography by Christopher Hirsheimer and Melissa Hamilton) flip to the recipe index that is arranged by plant family. The size of each chapter varies from the large and familiar Nightshades and Goosefoots to the single entry under Morning Glory.
In her eloquent introduction, Madison breaks down the structure of the plant kingdom to explain why certain pairings work in the kitchen and inspires improvisation in the kitchen and curiosity in the garden. She gives us an unparalleled look at culinary vegetables that will forever change the way we eat and cook.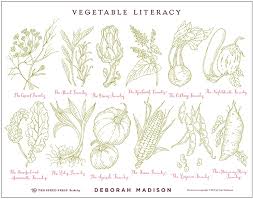 ———————-
Ellen Ecker Ogden is the author of The Complete Kitchen Garden ( Stewart, Tabori and Chang 2011) featuring theme designs and recipes for cooks who garden. www.ellenogden.com