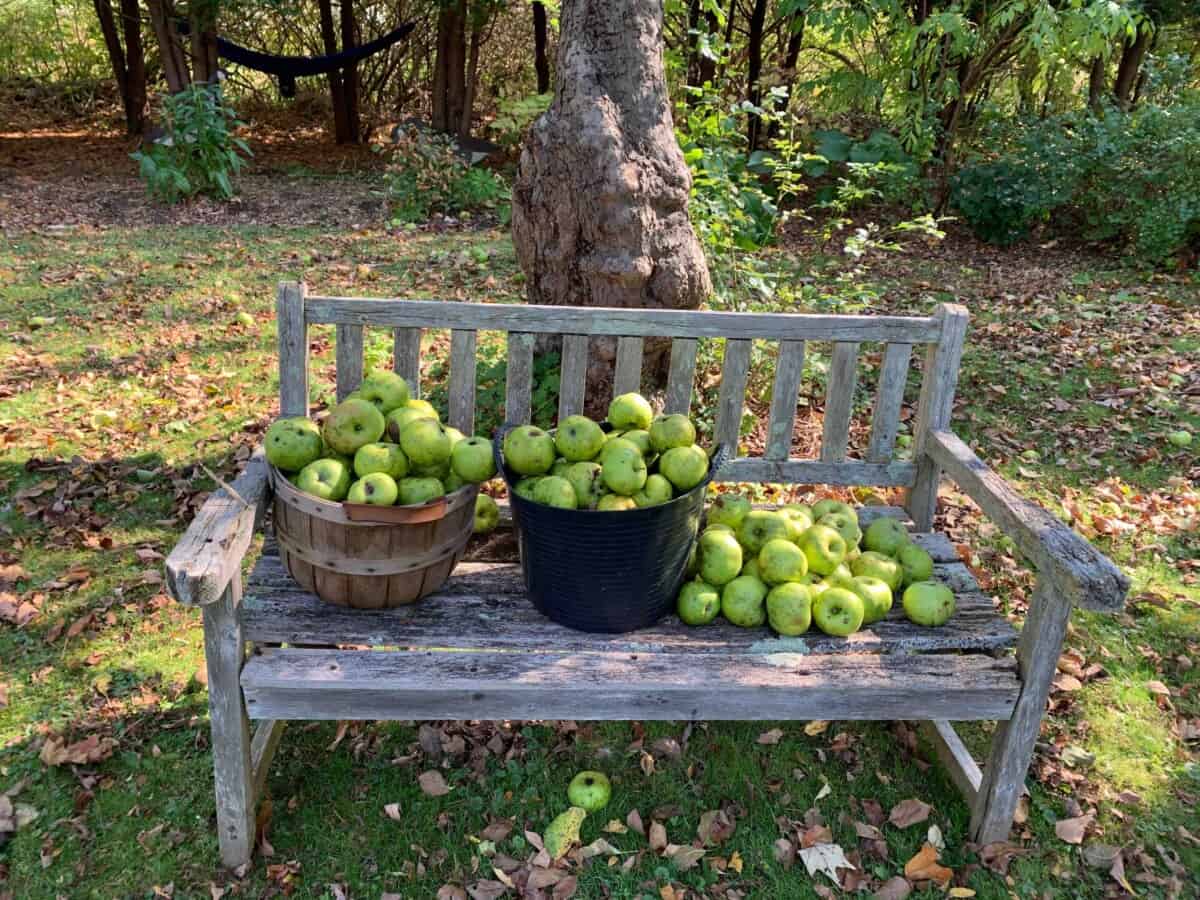 It's the only one left. I spend a lot of time thinking about this old tree, the trunk twisted and hollow, and who might have planted her a hundred years ago. Winter storms have had their way with the others yet despite the odds, this bumper crop is keeping me busy making sauce and apple pie.
Print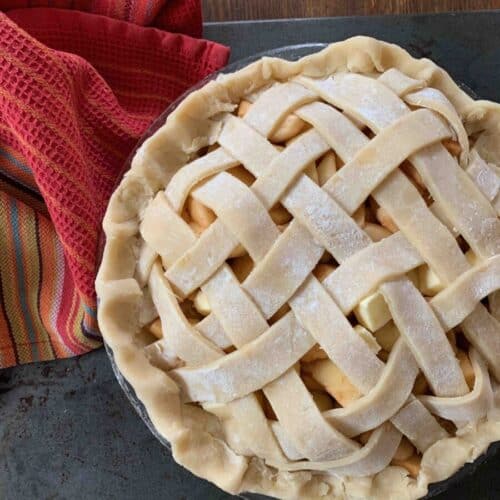 Vermont Farmhouse Apple Pie
---
Description
When it comes to apple pie, I like to let the pie do the talking because the apples you use will make the difference between a soft mushy filling and one that holds a little shape and has a crisp, tart bite. I suggest you seek out cooking heirloom apples, such as Cortland, Gravenstien, Jonagold or Newton Pippin. Even a good crisp Macintosh works well, if its fall and freshly harvested from a local orchard. But the real key is to cut it into chunks, and not thin slices.
I also think the crust has to be perfect. All of the old recipes call for shortening (or lard), which easily blends into the flour to make a flaky crust. I prefer a pure butter crust. Make the water icy cold, a critical step in the way the dough comes together, chill 1/2 cup of water with three ice cubes and let sit 5 minutes.
---
Scale
Ingredients
Two Crust Pie Crust:
21/2 cups unbleached all-purpose flour
1/2 tsp. salt
1/4 tsp. sugar
2 sticks ( 1 cup) cold unsalted butter, cut into ¼ inch pieces
1/2 cup ice water ( plan to use only 6–8 tablespoons)
Filling
8 large tart cooking apples peeled, cored and cut into 1/4 inch chunks or slices (about 6 cups)
2 lemons, juiced
1 teaspoon pure vanilla extract
1/2 cup sugar
1 teaspoon ground cinnamon
1/2 teaspoon freshly grated nutmeg
1/4 teaspoon cloves
1/2 teaspoon salt
1/4 cup cornstarch ( or 2 heaping tablespoons flour)
1/4 cup maple syrup
3 tablespoons cold butter, cut into pieces
---
Instructions
Make the Crust:
In a large bowl of an electric mixer or food processor, combine the flour, salt and sugar. Drop in the salted butter piece by piece, pulsing quickly, until all is added and it is the texture of cornmeal. (You can do this with a pasty blender or with your hands rubbing quickly and lightly between your fingers. Drop in the unsalted butter, again by pulsing in-between pieces, until all is incorporated, about 2 minutes.
With the motor running, slowly add ice water one tablespoon at a time, until the dough begins to ball up and no flour is left. Do not over mix the dough. Form it into two discs, press to flatten slightly and wrap each in plastic wrap or waxed paper, and refrigerate for an hour or more.
When ready to roll, let the dough sit on slightly flour surface for about 5 minutes, then roll out each disc to 1/8 inch thick, about two inches larger than the pie plate. Transfer one of the discs into the pie dish, allowing the dough to overhang over the side.
Preheat oven to 375*
In a large mixing bowl, combine the apples with the lemon juice, vanilla, sugar, cinnamon, nutmeg, cloves, salt, and cornstarch. Heap the apples into the crust, evenly pour the maple syrup mixture over the apples. Dot the top with butter.
Moisten the edges of the bottom crust, and gently place the top crust over the apples, or create a lattice work. Trim and crimp the edges to make a decorative edge.
Place in the hot oven and bake for 55 minutes,  until the apples are tender and the crust is golden.
---
Notes
For a crispy glaze: beat 1 egg yolk with 2 teaspoons milk, 1 teaspoon cinnamon and 1 tablespoon sugar. Brush the shell with a pasty brush, which will give it a nice golden crust.