Print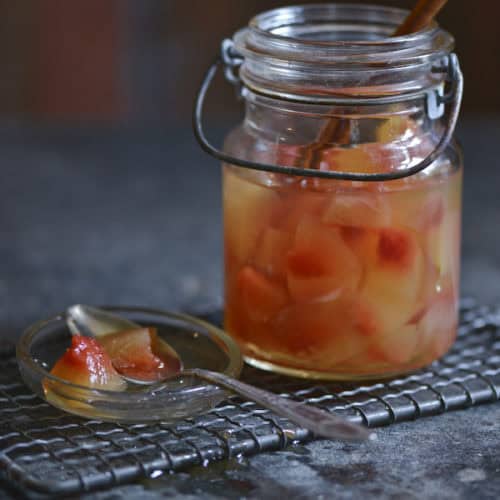 ---
Description
Watermelon is a summer staple, which is why my mother would make watermelon pickles every August. She'd buy a melon, cut it into pieces, and scoop out the melon into large chunks to serve for dessert or an afternoon snack. We'd spit the seeds out as far as they would go, carefully collect the rinds in a large bowl then soak them in cool water before chopping to make pickles.
To make a prettier pickle, when you cut the rind and peel off the green, leave a hint of red flesh attached. Watermelons are easier to weigh than to measure, and this recipe calculates a general ratio so you can increase or decrease the amounts based on the size of your melon.
Once you've made your watermelon pickles, label the jars and place them in a cool, dark place for several months to let them cure. Decant into a small silver or glass bowl and serve alongside a holiday meal of roast beef and Yorkshire pudding.
---
Scale
Ingredients
4 pounds watermelon peel (half a full watermelon)
2½ pounds sugar (5 cups)
4 cups apple cider vinegar
7 sticks cinnamons
1 tablespoon whole cloves
2 teaspoons allspice
---
Instructions
Peel the green off the watermelon rind, and cut the rind into small strips or cubes. Weigh the rinds to make sure you have 4 pounds or about 16 cups of the cubed watermelon rind. In a large stainless steel bowl, soak overnight in cold water to cover. In the morning, drain, and transfer to a 4-quart stockpot; cover with water, and bring to a slow simmer over medium heat.
Cook until tender, but not soft, about 15 to 20 minutes. Drain in a colander and rinse with cold water. In the same stockpot, combine the vinegar, sugar, and spices (to make it easier to remove spices, wrap them in cheesecloth; otherwise, you have to spoon them out with a slotted spoon at the end). Place watermelon rinds back in the pot, bring to a simmer, and cook slowly until rinds are transparent about 10 minutes. Don't overcook, because they will cook again in the hot water bath.
Meanwhile, prepare 6 half-pint jars by sterilizing in boiling hot water or the dishwasher. When ready to fill, place a cinnamon stick in each jar. Remove the spices, or leave them in the pickle brine; Wipe the rims clean with hot water, and place lids and seals. Turn upside down to vacuum pack. Place in the hot water bath for another 10 minutes. Remove, cool, and label. Store in a cool, dark place for at least 3 months until crisp.
---