There are many reasons to write a cookbook. It all starts with a love of food, cooking, and feeding others. In this virtual class, you will learn how to write your own cookbook with six detailed lesson plans that take you step-by-step.  In this class you will find 30 instructional videos, templates, and worksheets.
How to Write a Cookbook class is for anyone who loves cooking, writing, and reading cookbooks that tell stories about people, places and food.
Get started! Organize your recipes, tap into your food memories and create stories behind your family recipes.  To learn more: www.cookbookclass.com.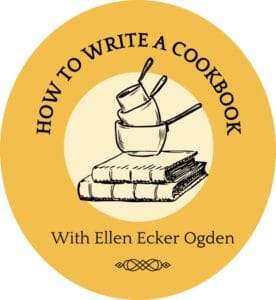 ---
Review From Students:
"Definitely exceeded my expectations! I loved the intense focus on format, mechanics, the logistics of constructing a book, and the nuts and bolts of recipe documentation. The templates are super helpful, and the links are wonderful." – Laurie K. (BrattleboVT)

"The community of classmates is nice. Your warm presentation style is personal and encouraging but, you set a tone of "You can do it! Get it done!" – Cindy C. (Brunswick, ME)

"Ellen provides an excellent framework, and a wealth of information, for writing your own family cookbook. The classes were just the right combination of instruction, food stories, and anecdotes, and encouragement to move forward with confidently completing such an enormous project." -Sarah H. (Concord, MA)

"I've wanted to do this for a long time for my children, and never would have gotten going without the invite to the class from a friend, or the professional and personable direction from Ellen – highly recommend!" – Liz R. (Providence, RI)
Watch this Video to Learn More: