Print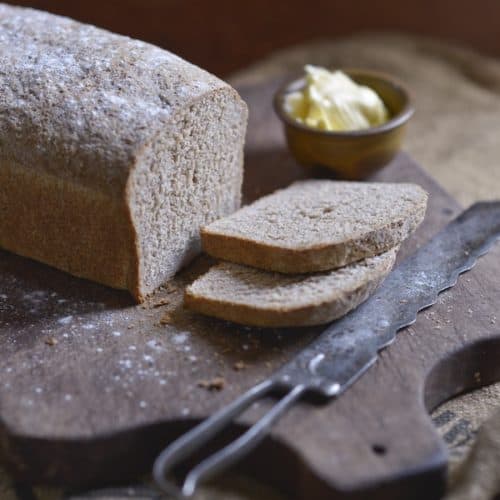 ---
Description
Baking bread is a good place to start when learning to cook. Besides being the perfect choice for toast, or a tomato and basil sandwich, Anadama Bread makes delicious salad croutons. The molasses and cornmeal give the dough a tacky surface, and it is easy to compensate with more flour. Be careful not to add too much flour when kneading the dough, which would result in a heavy loaf. Enjoy the aroma of this delicious bread baking in the oven.
---
Scale
Ingredients
1/2 cup yellow cornmeal
1 1/2 cup boiling water
1/2-cup molasses
3 tablespoons unsalted butter, cut up
2 teaspoons fine sea salt
1 1/4 ounce (2 1/2 teaspoons) active dry yeast
1/4 cup warm water ( 105* – 115*)
6 cups unbleached all-purpose flour, or more as needed
---
Instructions
Mix the cornmeal with 3/4 cup cold water in a medium saucepan. Whisk in the boiling water and bring to a boil over medium heat, whisking often. Add the molasses, butter and salt and cook, whisking often until the cornmeal has thickened to a pudding like consistency, about 7 minutes. Transfer to a large bowl and cool to lukewarm ( no hotter than 115*)
Sprinkle the yeast over the warm water in a small bowl and let stand until the yeast looks foamy about 10 minutes. Stir to dissolve the yeast. Stir into the lukewarm cornmeal mush. Sift the flour and gradually stir into the cornmeal mixture to make stiff somewhat sticky dough. Turn out onto a lightly floured work surface. Knead, adding more flour as required (but keep in mind that the dough should remain sticky), until the dough is smooth and elastic, about 10 minutes. Gather up the dough into a ball.
Transfer to a large lightly oiled bowl and turn to coat the dough with oil. Cover with a damp kitchen cloth, let stand in a warm place until double in volume, about 1 hour. Punch down the dough, and let rest for 10 minutes. Oil two 9 X 5-inch loaf pans. Divide the dough in half, shape into a loaf and place in the pan. Cover and rise about 30 minutes.
Preheat the oven to 400*. Uncover the pans and bake for 15 minutes. Reduce the oven temp to 375* and bake until the loaves are golden brown and sound hollow when tapped on the bottom. Let cool on a wire rack for 10 minutes before serving.
---