Print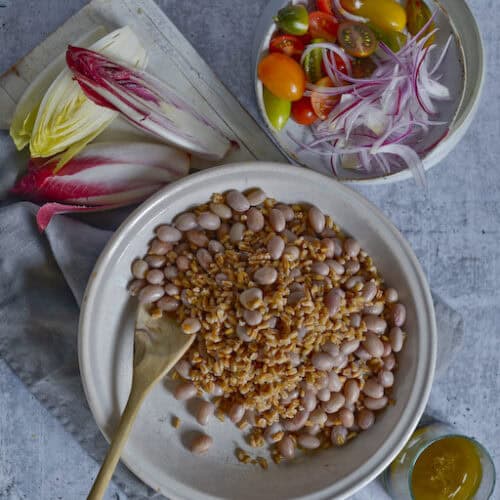 Borlotti (Cranberry) Bean and Farro Salad
---
Description
Italian heirloom Borlotti ( aka cranberry) beans are delicious on their own, simmered until soft, served with a glug of garlic infused olive oil. In this recipe, beans are paired with Farro, a sweet crunchy grain that is high in protein and a natural based for other vegetables. The chicory balances out the beans and grains, resulting in a salad that has a tapestry of flavors. One of my favorite chicories is Puntarella, yet any slightly bitter tasting green will balance the beans and grains. This recipe is adapted from my book, The New Heirloom Garden, in book stores everywhere on February 2021. (RodaleBooks)
---
Scale
Ingredients
1 cup cooked Barlotto or Cranberry beans.  (Start with 1/2 cup dried. See below for cooking instructions.)
1 ½ cup cooked Farro
½ cup cherry tomatoes, halved (or sun dried San Marzano)
½ Florence fennel, cut into slivers
2 sweet sweet red peppers
1 medium red onion, diced
1/4-cup tablespoons extra virgin olive oil
1 lemon, juiced
½ teaspoon sea salt
¼ teaspoon freshly ground pepper
1/8 cup Balsamic vinegar
1-cup sweet basil leaves, torn
1 head Endive curly chicory, finely chopped (about 1 cup)
1 head Radicchio, torn into bite sized pieces (about 1 cup)
½ cup Parmesan cheese, shaved with a vegetable peeler
---
Instructions
In a low wide salad bowl, combine the cooked beans with Farro with the tomatoes, peppers and onions.
In a small jar with lid, shake together the olive oil, lemon juice, salt and pepper, and Balsamic vinegar. Pour over the salad, tossing to fully coat.
Cover and allow the salad to stay at room temperature an hour to let all the flavors gently come together.
Just before serving, toss with the endive, radicchio and basil, top with grated cheese.
---
Notes
How to cook dried beans and farro grain:
* Beans: Harvest the beans, shuck and soak the beans in water to cover overnight. Drain and place beans in a saucepan with water to cover. Bring to a simmer uncovered, add a good drizzle of olive oil and more water as needed. Let them simmer for an hour or more, depending on the type and the age of the bean. Taste and turn off the heat when the beans are completely tender to eat, and skins are ready to slip off. Let them remain and soak until ready to use.
* Farro: A basic cooking proportion is three to one liquid to grain simmered uncovered. For a nutty flavor, roast farro in a dry skillet before adding the water. Bring to a boil and simmer about 30 minutes, until the water is absorbed. Drain and spread out to cool and dry before adding it to a salad.