Print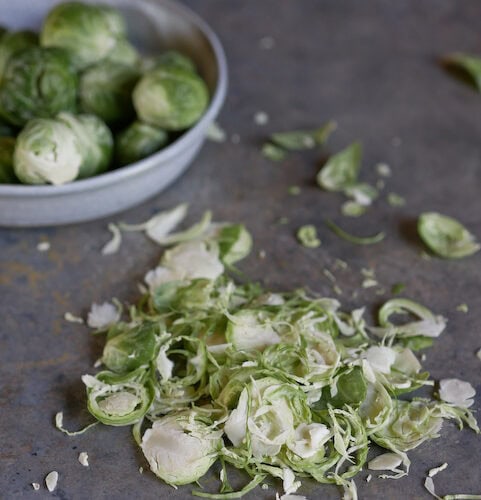 Brussels Sprouts Slaw with Cashew Dressing
---
Description
Brussels sprouts are my comfort food, boiled until soft, topped with a knob of sweet butter and crackling of pepper. This raw winter salad of finely shredded Brussels sprouts makes a colorful and chunky side salad, with a delicious vegan salad dressing made with cashews.
---
Scale
Ingredients
4 cups Brussels Sprouts (about 2 pounds)
½ small red onion, finely chopped
2 leaves curly kale leaves, finely chopped
½ cup Parmigiano-Reggiano cheese
1/3 cup dried currants
½ cup chopped walnuts, lightly toasted in a dry skillet
Cashew Curry Dressing | Makes ½ cup)
½ cup cashews, soaked in ½ cup boiling water for 10 minutes
1 ½ tablespoons lemon juice
1-tablespoon curry powder
2-teaspoon maple syrup
½ teaspoon sea salt
¼ apple cider vinegar
---
Instructions
Trim the stem and outside leaves of the Brussels sprouts, and coarsely chop into small pieces. Transfer to a salad bowl, add the onions, and chopped kale, cheese, currants and walnuts.
To Make the Dressing: Combine the ingredients in a blender, while on high speed to puree until smooth. Taste and adjust the seasoning. Pour over the Brussels sprouts, toss and refrigerate until ready to serve.
---