Print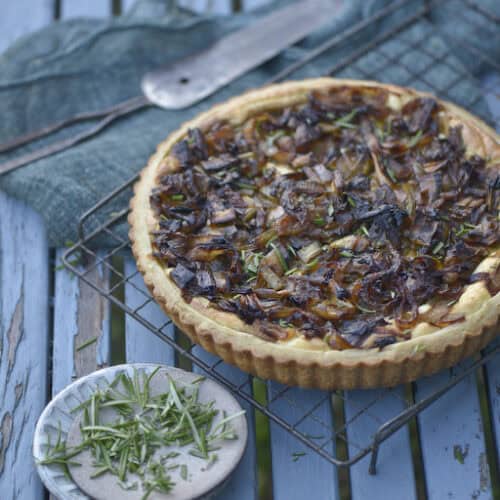 Caramelized Leek French Tart
---
Description
Leeks are sweeter than onions, and when slowly simmered slowly will turn crispy brown. Onions can easily be substituted, yet take a little longer to reduce down since they contain more moisture. While the leeks ( or onions) sauté, make the crust; the whole dish can come together in less than an hour.
---
Scale
Ingredients
Tart Shell
1½ cups unbleached
all-purpose flour, plus more for rolling
½ teaspoon salt
½ cup (1 stick) unsalted butter, chilled and cut into ½-inch pieces
½ cup sour cream or
plain yogurt
Filling
2 large heirloom leeks (about 1 pound), preferably Blue Solaise or 2 large onions
3 tablespoons extra-virgin olive oil
2 teaspoons light brown sugar
½ teaspoon sea salt
1⁄8 teaspoon freshly ground black pepper
2 tablespoons Marsala wine
1 teaspoon finely chopped fresh thyme
1 tablespoon finely chopped fresh rosemary, plus whole leaves for garnish
1 large egg
2 cups fresh ricotta cheese
Finely minced garlic, for garnish
---
Instructions
Make the tart shell: Blend the flour and salt in the bowl of a food processor fitted with the steel blade and whir until mixed. With the motor running, add the butter, one piece at a time, taking a few seconds in between additions to allow the butter and flour to fully blend. Stop, add the sour cream all at once and whir again for about a minute, just until the dough forms a ball; don't over blend.
On a lightly floured work surface, roll the dough into an 11- to 12-inch circle about 1⁄8 inch thick. Fit it into a 9-inch pie pan, trimming the overhang to ½ inch all around. Fold the edges under and crimp the dough. Refrigerate while you prepare the filling.
Make the filling: Clean the leeks by slicing them lengthwise and running them under cool water to remove any grit. Pat them dry and cut the white portions and about 1 inch of the greens crosswise into ½-inch slices. The very top dark green is not as tender; reserve it for soup stock.
In a large skillet, heat the oil over medium-high heat. Add the leeks and cook, stirring often with a wooden spoon to prevent them from burning, until soft, about 15 minutes. Stir in the brown sugar, sea salt, and pepper. Reduce the heat to low and cook, stirring often, until the leeks are golden brown and have a sticky texture, about 25 minutes. Stir in the Marsala and chopped herbs, and continue to simmer for another 5 minutes, until fragrant.
Preheat the oven to 375°F and position a rack in the center.
In a medium bowl, beat together the egg and ricotta, and transfer the mixture into the pastry shell. Spread the caramelized leeks evenly on top.
Bake for 45 minutes, until the pastry, is golden brown. Remove from the oven, sprinkle with fresh minced garlic and rosemary, and let stand 10 minutes to cool slightly before serving.
---