Print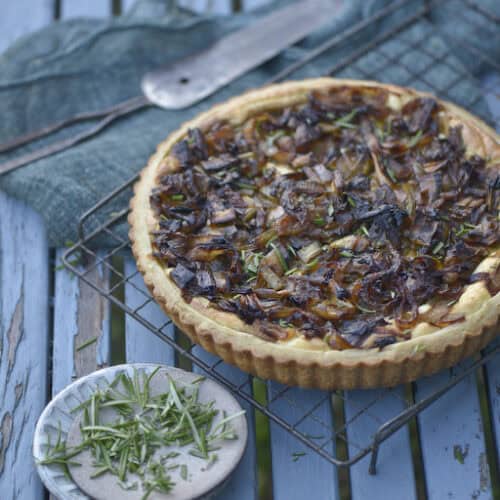 ---
Description
I always grow about six types of onions because each has a unique culinary purpose, and for this recipe, you will need a well-flavored yellow onion that is neither too sharp nor too sweet.  Slow cooking brings out every drop of sweetness in the onions, which is balanced here by Marsala. Serve this savory tart cut into small squares for a hot appetizer, as a side with a spring salad of mixed greens.
---
Scale
Ingredients
The Pie Crust:
1 1/2 cups unbleached all-purpose flour
1/2-teaspoon salt
8 Tablespoons (1 stick) unsalted chilled butter cut into 1/2-inch pieces
1/2-cup plain yogurt
The Filling:
2 medium yellow onions, thinly sliced into half moons
2 tablespoons olive oil
2 tablespoons unsalted butter
1/2-teaspoon sea salt
1/4 teaspoon freshly ground pepper
1/4 cup Marsala cooking wine
2 tablespoons + 1 teaspoon finely chopped fresh rosemary
1 large egg
2 cups ricotta cheese
1/2 cup shredded sharp cheddar cheese
1/4 cup finely grated Parmigiano-Reggiano cheese
---
Instructions
The  Crust:
In the bowl of a food processor fitted with a steel blade, blend the flour and salt Work the flour and salt until mixed, and with the machine on, add the butter one piece at a time. Add the yogurt and blend until the dough forms a ball, less than a minute. Roll out the dough and gently press it together to gather into a pliable ball. Lightly flour a work surface and roll out to a 1/4 thin strip or oval, to fit into your tart pan. Trim the overhang with a rolling pin pressed along the ridged eddges for a clean cut. Refrigerate while making the filling.
The Filling:
In a large, deep heavy-bottomed skillet over low-medium heat, melt the oil and butter. Add the sliced onions and stir in the salt and pepper. Keep the heat low and sautee, stirring often with a wooden spoon, until the onions are deeply browned and have a sticky texture. This can take about 30 minutes. Remove from the heat, stir in the Marsala wine, thyme, and rosemary, and gently cook for another 5 minutes. Remove from the heat and set aside.
Position a rack in the center of the oven and preheat to 400*. Beat the egg in a medium bowl, and then stir in the ricotta, and cheddar cheese to blend. Spread the mixture evenly in the pastry shell and spread the onions on top.
Bake until the pastry is golden brown, 35 minutes to 40 minutes. Let stand for 10 minutes. Garnish with chopped fresh rosemary, serve warm or at room temperature.
---