Print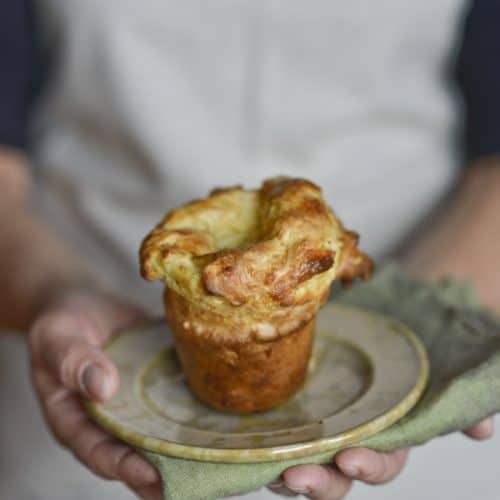 ---
Description
Popovers are the ultimate breakfast treat: eggy, warm, and satisfying. My recipe includes a hint of cheddar cheese to give them a little extra flavor and makes them suitable for dinner as a side for a hearty soup. An authentic popover pan is deeper and heavier than a muffin tin, and is preheated in a hot oven before the batter is added, to make sure the pastries rise and "pop over" the sides.
---
Scale
Ingredients
3 tablespoons unsalted butter
1 1/2 cups unbleached all-purpose flour or rye flour
1/2 teaspoon salt
1/4 teaspoon freshly ground black pepper
3 large eggs
1 1/2 cups whole milk
1/2 cup finely grated cheddar cheese
---
Instructions
Preheat the oven to 450°F. Dot each of 6 popover cups with 1/2 tablespoon of the butter and place in the hot oven to preheat while you mix the batter.
In a small bowl, stir together the flour, salt, and pepper. In a medium bowl, whisk together the eggs, milk, and cheese, then gradually add the flour mixture and whisk until smooth. (You can do this in a mixer, but whisking by hand produces more tender, lighter popovers.)
Carefully remove the popover cups (which will be smoking hot) and divide the batter evenly among the cups, filling each three-quarters full. Return to the oven and bake for 20 minutes. Reduce the oven temperature to 350°F and bake for 20 minutes more, until the popovers are golden brown. Remove from the oven and serve piping hot.
---