Print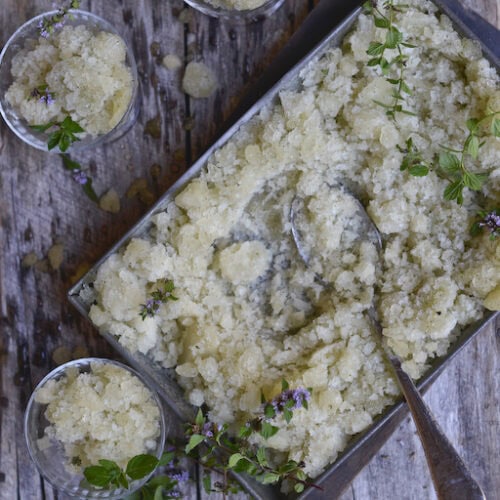 ---
Description
Granita does not require a fancy ice cream maker. Instead, it is more like flavored ice, served in between courses to refresh the palate or as a refreshing breakfast with brioche as they do in France and Italy. Just three easy ingredients! Make with any type of mint, or light summer herb.
---
Scale
Ingredients
1 cup whole fresh chocolate mint leaves, plus fresh sprigs for garnish
1 cup superfine sugar
1 lemon, freshly juiced
---
Instructions
Chill a 9 × 13 -inch metal baking pan and a large metal serving spoon in the freezer for about 30 minutes.
Coarsely chop the bee balm petals and spearmint leaves by hand, transfer them to a food processor along with the sugar, and whir the mixture until it forms a green paste, about 30 seconds.
Add the lemon juice and pulse to combine, scraping down the sides of the bowl as needed. Add 3 cups water and pulse until the sugar dissolves, about 1 minute.
Strain the minty liquid through a fine-mesh sieve into the chilled pan, discarding the solids left behind in the sieve. Freeze the mixture uncovered until it sets around the edges, about 1 hour, depending on your freezer's temperature.
Using the chilled metal spoon, mix the frozen edges into the center, leaving the spoon in the pan to stay cold. Freeze again and repeat the stirring procedure about every 30 minutes, until the mixture has a slushy consistency, 2 to 3 hours total freezing time.
Serve the granita immediately, spooned into a chilled glass, and garnished with a mint sprig.
---