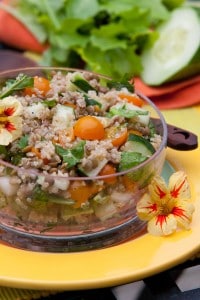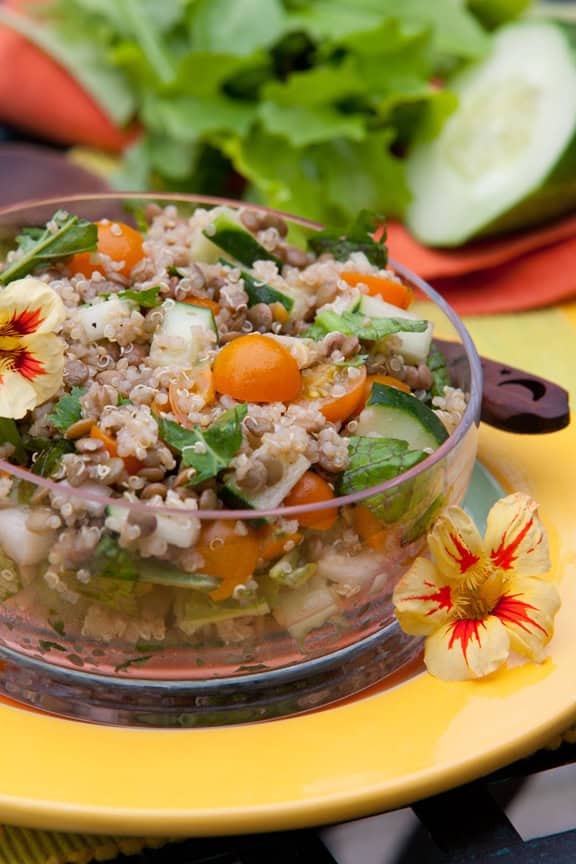 EDIBLE FLOWERS are all around us, both wild and cultivated, and now that it's summer, consider garnishing your plate with a dance of vibrant colors to arouse the appetite. Flowers in the kitchen are primarily decorative, yet eye appeal is not the only virtue of edible flowers, since many offer a range of flavor, and health benefits.
With over two dozen edible flower varieties to choose from, Borage is still my favorite. And the bees love them as much as I do. Borage is a rambling plant, with expansive hairy leaves and a sprawling habit and both the leaves and the flowers have a slight cucumber flavor. Harvesting the tiny iridescent blue star shaped flowers takes time and patience, yet these delicate beauties adorn salads, decorate canapés or jazz up iced cubes and it the best way to bring the garden to the table.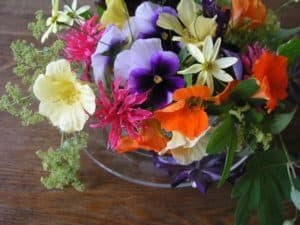 THE SIZE AND COLOR is as important as the type and the selection of the flower to compliment the dish. Sweet flowers, such as anise hyssop, lavender or honey suckle are best in a recipe or as a garnish for desserts. Savory types such as nasturtium, chives or mustards are wonderful with soups and salads.   The floral taste of bee balm and many herb flowers make a lovely garnish for fish, or an delicately flavored flower ice cream or sorbet.
Preserve edible flowers for the winter by drying stems with flowers attached from the rafters or flattening blossoms in a flower press or between the pages of a thick dictionary. It takes about four weeks until all the moisture is completely removed , and store them in an envelope inside an airtight bag or jar in the spice drawer.
FLOWERS AND VEGETABLES are equal partners in my garden, and often the bouquets on the table will also decorate the plate. From years of growing and tasting different varieties, I've developed a few favorites that I grow every year, starting with Nasturtiums. Blazing with peppery hot colors and spicy flavor, these bright colored annuals originated in Peru and are commonly called Indian cress. The bright, pungently flavored blossoms and the green lily pad shaped leaves can both be used in salads and claim to have exceptional anti-oxidant qualities.
This time of year when the gardens are spilling over, I often make nasturtium butter by combining a stick of room temperature butter with two dozen nasturtium flowers, a handful of nasturtium leaves and a clove of garlic or chives. Mincing the herbs and then blending them into the butter the flower butter is ready to serve or frozen and used later.
Miniature roses, Johnny jump ups, violets and Borage are particularly well suited to preserving in sugar, a time honored technique guaranteed to create stunning decorations for cakes, cookies, sorbets and hors d'oeuvres. Select flowers that are perfectly shaped, and leave a small amount of stem to hold. Make sure the petals are completely dry, yet not wilted. In a small bowl, beat an egg white and holding the flower by its stem, gently paint the petals front and back. Sprinkle the flower with sugar and set aside on a cake rack for an hour or two. Put in a low oven until dry and store in a cool dry place.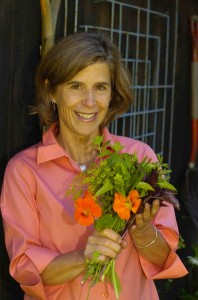 HARVESTING FLOWERS and vegetables from the vegetable garden, I often serve an Italian specialty of stuffed Zucchini flowers as an appetizer. Combine ricotta cheese, onions and toasted almonds or pine nuts with grated Parmesan cheese. Season with salt and fresh basil, then fill squash blossoms, drizzle with melted butter and bake at 350* for 15 minutes. Arrange on a serving platter and serve as a first course.
It's a humbling reminder that eating flowers is nothing new. The bees have known all along how good flowers can be, and now, it's our turn.