Print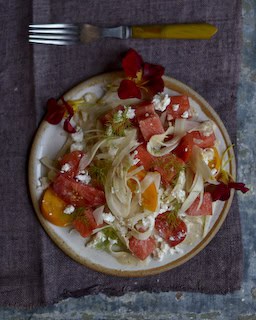 Fennel and Watermelon Salad
---
Description
Nothing fancy, yet a nice change from a green salad to serve alongside a vegetable burger or grilled Panini with cheese and roasted peppers. Try adding a few heirloom West Indian Burr Gherkins sliced and tossed into the bowl.
---
Scale
Ingredients
1 medium fennel bulb, preferably Florence – halved, cored and thinly sliced lengthwise
2 tablespoons extra-virgin olive oil
Freshly ground sea salt and black pepper to taste
½ small watermelon, cut into one-inch chunks (about 4 cups)
3 ripe red or yellow heirloom tomatoes, preferably Black Krim or Persimmon, cut into half-inch wedges (about 4 cups)
1 full-size looseleaf lettuce head, preferably Deer Tongue or Bibb
Yogurt Dressing
(recipe follows)
½ cup crumbled  Feta
---
Instructions
In a large salad bowl, combine the fennel, watermelon, and tomatoes. Tear the lettuce into large pieces and add them to the salad bowl.
Spoon the dressing over the salad to taste; toss to coat. Crumble the goat cheese and basil on top and gently toss. Garnish with nasturtium flowers and serve immediately.
Yogurt Dressing
Makes ½ cup
½ cup whole-milk yogurt
3 tablespoons extra-virgin olive oil
1 tablespoon balsamic vinegar
Zest and juice of 1 lemon
½ teaspoon sea salt
½ teaspoon freshly ground black pepper
In a small jar with a lid, combine the yogurt, olive oil, vinegar, lemon zest and juice, salt, and pepper. Screw on the lid and shake vigorously to blend. Leftovers can be refrigerated and used within a week.
---