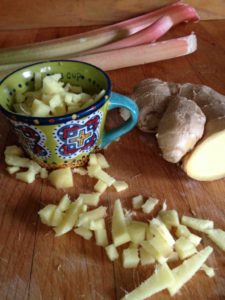 Chutney is made with fresh fruit, ginger, hot chilies, and spices, and it is simple to make. You can follow a recipe, or keep basic proportions in mind: two cups of sugar, two cups of vinegar, and eight cups of sliced or chopped fruit and wing it. Add grated fresh ginger, raisins or cranberries, and black mustard seeds, to impart a depth of flavor that will elevate the chutney beyond a simple relish.
Good chutney demands more time than creativity, and can take an hour of simmering before it reaches the glossy, thick consistency that signals readiness. Like good wine, chutney gets better with age, and should be sealed and set on the shelf for at least three months before served as a side with poultry or dabbed on a cracker with a slice of cheddar cheese.
If the ingredient list seems daunting, take a deep breath and give it a try. Besides, it's a good way to use up all that rhubarb that is begging to be picked.
Rhubarb Ginger Chutney
Makes 6 pint jars
2 cups dark brown sugar
2 cups apple cider vinegar
1 or 2 fresh jalepeño
1 large shallot
3 cloves garlic
1 onion, thinly sliced
1 tablespoon black mustard seed
2 tablespoons yellow mustard seeds
1/4teapsoon each: cloves, coriander, cardamom
2 cinnamon sticks
1/2 cup dried cranberries or raisins
1/4 cup fresh grated ginger (3-inch knob) or finely chopped crystallized ginger
6 cups chopped rhubarb – cut into 1 inch chunks
1. In a large kettle, combine the sugar and the vinegar and bring to a simmer over medium heat, until the sugar dissolves. Finely dice the jalapeño, shallot, garlic, onion and mustard seed. Stir in the spices, cranberries or raisins and the ginger. Simmer uncovered for about 10 minutes, while your prepare the rhubarb.
2. Harvest 10 or so rhubarb stalks, and trim the leaves off in the garden and place in the compost. Cut into 1 inch chunks, and add to the simmering pot.
3. Bring the mixture to a simmer over medium-low heat and allow to cook for about 20-30 minutes, stirring occasionally, until the rhubarb softens and the brine takes on a glossy look. Take care not to overcook to keep the texture chunky.
4. Taste, and once you've deemed the chutney is ready, fill sterilized jars; wipe the rims clean with a hot towel and screw on the sterilized lids. Flip upside down to seal. You may immerse the jars in a hot water bath for 10 minutes, if you think this is necessary to ensure proper sealing. Label the jars and set on a shelf for a minimum of 3 months to allow the flavors to meld and ripen.