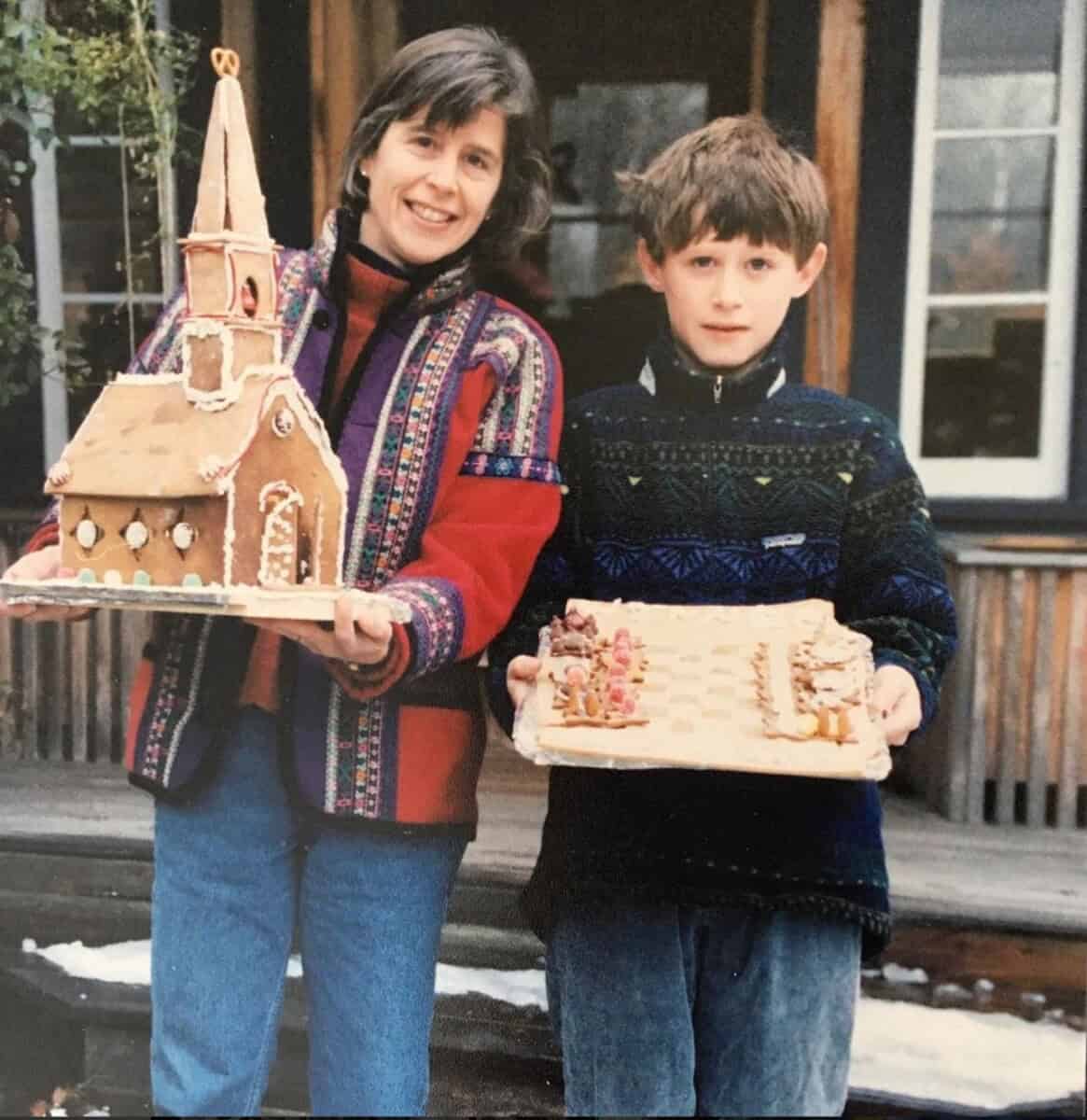 Every Christmas when my children were young, we made gingerbread houses along with Christmas cookies. We turned up the music for the Nutcracker and the kitchen became an art room full of activity and creativity. The act of cooking (and gardening) with children always leads to a messy clean-up, yet the memories have a long-lasting impact.
Print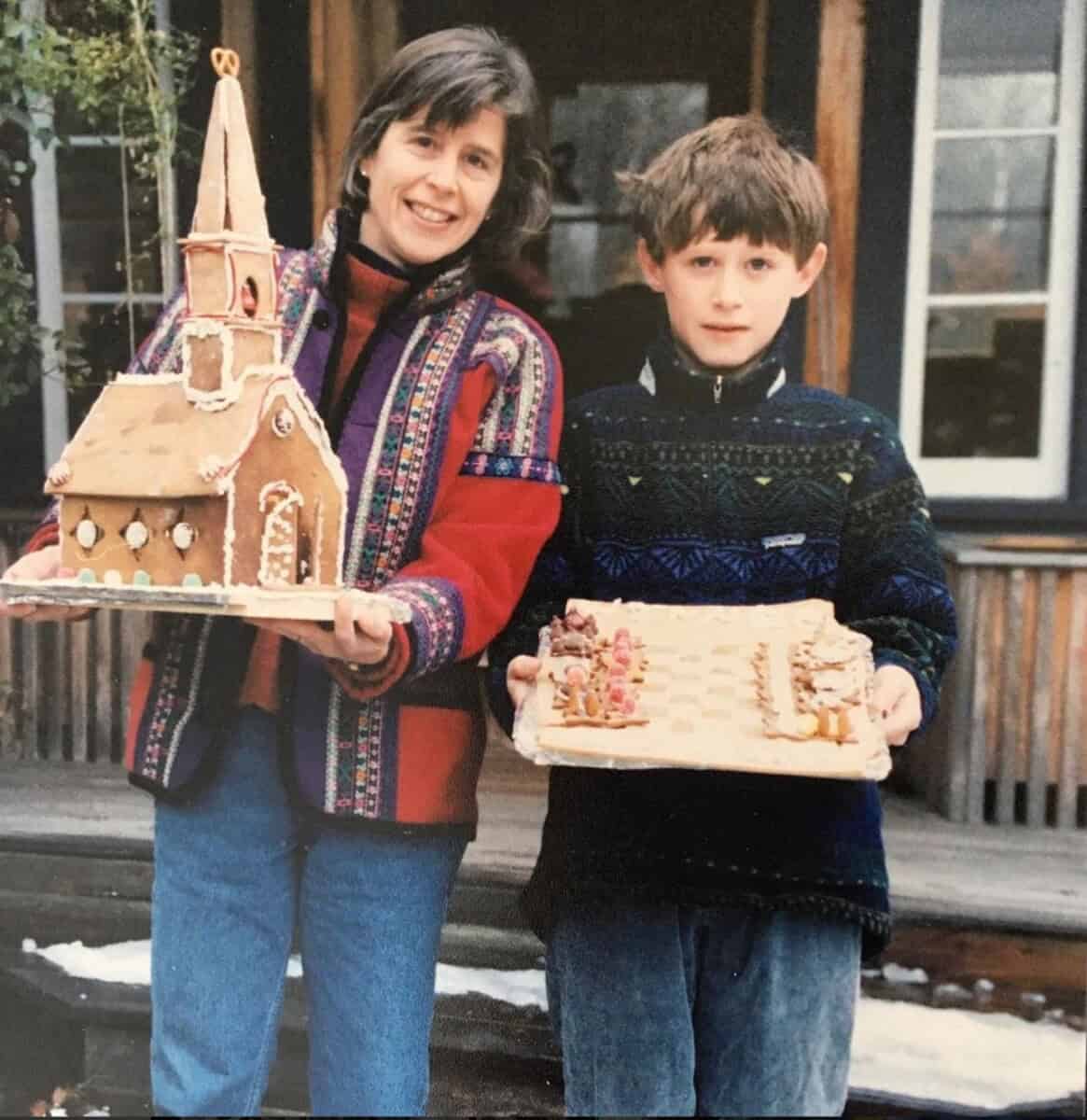 ---
Description
Home Sweet Home Gingerbread House
Makes: One 5 x 7 x 7-inch gingerbread house
The day after Thanksgiving, you'll find my children in the kitchen surrounded by candy—piles of red licorice whips, chocolate nonpareils, cinnamon Red Hots, gumdrops, and peppermint drops—ready to decorate the family gingerbread house. Assembling the materials is the best part of making a gingerbread house.
Start your design on paper, transferring to a light cardboard pattern used for cutting out the gingerbread pieces before baking. The dough is stiff and requires chilling, so it is best to do this step on your own, without young children, a few hours in advance or the night before. Once baked, the pieces need to cool before they are glued together with the royal icing. Let the glued-together house sit for a day to harden before adding the candy. Then call in the kids and take your sweet time, adding a bit of candy here and there to stretch out the fun.
---
Scale
Ingredients
8 tablespoons (1 stick) butter
½ cup loosely packed dark brown sugar
½ cup dark molasses
3½ cups sifted all-purpose flour
1 teaspoon baking soda
1 teaspoon ground cinnamon
1 teaspoon ground ginger
¼ teaspoon ground cloves
1 teaspoon salt
1/3 cup water
Royal Icing:
1 pound confectioners' sugar
3 egg whites, room temperature
½ teaspoon cream of tartar
---
Instructions
Gingerbread:
In the bowl of an electric mixer fitted with the whisk, cream together the butter and sugar. Add the molasses and continue mixing until well-blended.
In a large bowl, mix together the flour, baking soda, cinnamon, ginger, cloves, and salt. With the mixer on low speed, add the flour mixture, alternating with the water until it all comes together into a ball.
Roll out onto a floured surface and work the dough with your hands until it becomes smooth. Slice in half, shape into two balls and wrap in plastic wrap. Lightly press down to flatten just a bit, then chill thoroughly for a few hours or overnight.
Make a pattern with oak tag or cardboard (see note). Preheat the oven to 350˚F. Remove the dough balls from the refrigerator and lightly flour the counter or a marble pastry board. Roll one of the balls to ½-inch thickness, flipping every few rolls to prevent sticking. Arrange as many pieces cut out from your pattern as possible, trim with a sharp knife, and place dough pieces on a nonstick baking sheet. Repeat with the second ball, until all pieces have been cut out. Reserve any extra dough that remains from the trim, wrap it back up in plastic wrap, and refrigerate in case any pieces break and need replacements.
Bake gingerbread pieces for 10 to 15 minutes until the surface is firm and light brown. Let pieces sit for a few minutes to cool with a thin spatula, carefully transfer each piece to a wire rack to completely cool.
Icing
While the gingerbread is baking, make the icing. With an electric mixer fitted with a whisk, beat the egg whites on low speed until frothy; add the confectioner's sugar and cream of tartar and until blended. Turn up to high speed and beat until stiff peaks form, 10 to 15 minutes. Test the icing to make sure it hardens by spooning out a small portion and spreading it onto a plate or an extra piece of gingerbread. After 15 to 20 minutes, it should be stiff as glue. If it is still soft, keep beating, and add a bit more confectioner's sugar, as needed. When satisfied that it is ready, transfer to a pastry squeezer or create one with a plastic zip-lock bag by making a small slit in the corner.
To Construct:
Start with the base. Squeeze out a thin line of icing onto the bottom edges of the walls, where they meet the base. Then add more icing to the edges of the walls, where they come together. Gently add each wall and press pieces together to attach to the base. Allow these to be completely set before adding the roof.
Glue the roof pieces to the walls and to each other at the peak. Go around and fill in the gaps between walls and roof with extra royal icing to completely secure. Keep adding pieces until the house is complete, then set aside for a few hours or preferably overnight before decorating with candy. To decorate, spoon a dab of icing on the back of candy, then press gently on the house or base.
---