Gingersnap Pumpkin Cheesecake
This makes one very large, irresistible cheesecake that is perfect for a special occasion. The tawny pumpkin topped with sweetened sour cream looks festive, the filling is rich and smooth, and the crunch of the gingersnap cookie crust adds the texture and flavor boost that brings it all home. It's best to make this cake in the morning or the day before, so it can chill before serving.
Print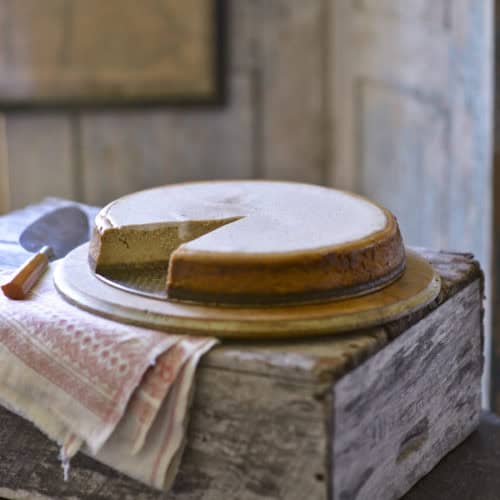 Gingersnap Pumpkin Cheesecake
---
Scale
Ingredients
CRUST
12 ounces gingersnaps
¼ cup sugar
6 tablespoons (¾ stick) unsalted butter, melted
FILLING
3 (8-ounce) packages cream cheese, at room temperature
1 ½ cups sugar
1 teaspoon ground cinnamon
½ teaspoon ground cloves
5 large eggs
1 (15-ounce) can pumpkin puree (not pumpkin pie filling)
¼ cup heavy cream
2 teaspoons pure vanilla extract
2 tablespoons dark rum
TOPPING
2 cups sour cream
1 tablespoon sugar
1 teaspoon pure vanilla extract
½ teaspoon ground cinnamon
½ teaspoon freshly grated nutmeg
---
Instructions
MAKE THE CRUST: Preheat the oven to 325°F and position a rack in the center.
In a food processor fitted with the steel blade, process the cookies into small crumbs. Add the sugar and pulse just to combine. Slowly pour in the melted butter and process until the crumbs are moistened. Press the mixture evenly over the bottom of a 10-inch springform pan. Bake for 10 minutes. Remove from the oven and let cool while you prepare the filling. Keep the oven on.
MAKE THE FILLING: In the bowl of a stand mixer fitted with the pad­dle attachment, beat the cream cheese, sugar, cinnamon, and cloves until blended and smooth. Stop the mixer and scrape down the sides of the bowl and the paddle with a rubber spatula as necessary. With the mixer running, beat in the eggs one at a time. Add the pumpkin, cream, vanilla, and rum and beat to combine.
Pour the cream cheese filling into the crust. Bake for 1 hour and 45 min­utes. Remove the cheesecake from the oven and let cool for 15 minutes in the pan on a wire rack. Raise the oven temperature to 450°F.
MAKE THE TOPPING: Whisk together the sour cream, sugar, vanilla, cinnamon, and nutmeg in a small bowl.
Spread the sour cream topping evenly over the cheesecake and return it to the oven for 10 minutes. Remove from the oven and again let cool on a wire rack for 30 minutes to 1 hour, then refrigerate for several hours, or up to overnight.
When ready to serve, run a sharp knife between the cake and the side of the pan, then release and remove the spring form ring, leaving the cake on the bottom part. Set on a decorative cake plate and serve.
---
Recipe from The Vermont Country Store Cookbook