Glazed Pear Tarte Tatin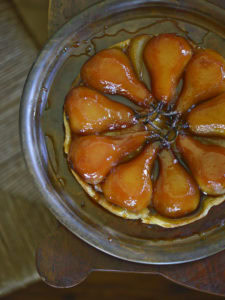 Serves 6 to 8
There are numerous recipes for apple or pear Tarte Tatin, which is essentially caramelized fruit baked upside down under a crust. Named after the French Hotel Tatin where the dessert originated, the fruit is glazed, then a piecrust bakes on top of the fruit to keep the filling moist during cooking.
Flip the hot rustic Tarte Tatin onto a plate, and serve. It's not as sweet as a traditional pie, but plenty flavorful! And it tastes even better reheated the next day for breakfast or as an afternoon snack. Make sure to arrange the fruit artistically, as when you flip it over to serve, that's what you'll see. It's a gorgeous and impressive presentation. Bosc pears are an heirloom French variety, the perfect pairing for this recipe.
Pate Brisee Single Crust
1 1/4 cups all-purpose flour
1/2 teaspoon salt
1 sticks (1/2 cup) unsalted butter, cold, cut into small pieces
1/4 cup ice water
In the bowl of a food processor, combine flour and salt; pulse to combine. Add the butter, and pulse until mixture resembles coarse crumbs with about 10 seconds. (To mix by hand, combine dry ingredients in a large mixing bowl, then cut in butter with a pastry blender.)
With the machine running, add the ice water through the feed tube one tablespoon at a time, just until the dough holds together without being wet or sticky. Do not process more than 30 seconds. Test by squeezing a small amount of the dough together; if it is still too crumbly, add a bit more water.
Turn out the dough onto a clean work surface and divide in half. Shape into flattened disks, wrap in plastic , and refrigerate at least 1 hour or overnight.
Fruit Filling:
8 Bosc pears, peeled, halved, and cored
1 lemon, juiced
1 1/2 cups granulated sugar
1/4 cup plus 2 tablespoons water
1 stick butter
½ salt
Roll out pate brisee to a 10-inch circle, about 1/8 inch thick; transfer to a baking sheet and chill until firm, about 30 minutes.
Peel, halve and core pears and transfer to a large bowl. Squeeze lemon over and set aside.
In a large high sided skillet, with a tight fitting lid, combine sugar and water. Bring to a boil over medium-high heat; cover and cook until mixture begins to thicken and turn amber around the sides. Uncover and gently swirl the pan to caramelize evenly. Remove from heat and stir in butter and salt.
Preheat oven to 400 degrees.
Arrange the pears in a single layer, return mixture to heat and cook turning pears occasionally until tender, about 10 – 15 minutes. Remove from heat and cool.
In a 9-inch cake pan, transfer pears core side up making two layers. Pour ¾ of caramel sauce evenly over the pears, reserving the rest for serving. Place pate brisee crust over pears and tuck edges to enclose in cake pan. Transfer baking sheet to oven and bake until golden brown, about 25 minutes until pastry is golden.
Cool 10 minutes and. Place a rimmed serving platter over the pan, and quickly and carefully invert. Pour remaining glaze and serve.