Print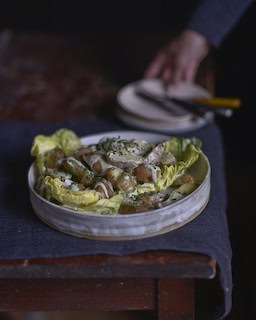 Green Goddess Dressing for Potato Salad
---
Description
This fresh herb and lemony dressing can be made with almost any fresh herb, although the licorice flavor of Tarragon is memorable. While I have resisted anchovies for years, I now keep several tins in hand and find them indispensable.
I love this fresh herb lemony dressing on almost anything. Serve it over fresh asparagus, as a dip for artichokes or a crudité platter, or to dress up new potatoes in a cold salad as below. Spooned over a pile of salad greens, the piquant herbs and the anchovies draw out the best in just about every vegetable. Substitute mayo and sour cream with Greek yogurt.
---
Scale
Ingredients
Green Goddess Dressing | Makes 1 cup
Dressing:
½ cup mayonnaise
½ cup sour cream
2 small anchovy fillets (sub with capers if you don't like anchovy)
½ clove garlic, peeled and chopped
Juice of one lemon
1 Tablespoon fresh tarragon leaves
1 Tablespoon fresh parsley leaves
1/4 cup fresh basil leaves
Salt and freshly ground black pepper
Potato Salad:
2 pounds medium-sized new red potatoes (about 8)
½ red onion, finely chopped
1 head butterhead lettuce, leaves separated, washed, and dried
½ cup finely chopped chives
---
Instructions
In a blender or food processor, combine mayonnaise, sour cream, anchovies, garlic, lemon juice and herbs Blend until smooth, 1 minute. Season with salt and freshly ground black pepper.
Bring a pot of lightly salted water to a boil. Scrub the potatoes, and leaving the skins on place them in a steam basket and lower into the boiling water. Cook until tender when pierced with a sharp knife, about 30 minutes, depending on size. When the potatoes are cool enough to handle, slice or quarter them.
Place the potatoes in a salad bowl along with the red onions, and spoon on ¼ cup of dressing. Toss to fully coat, adding more dressing to taste. Chill and serve on a bed of soft butterhead lettuce leaves, garnish with chopped chives. Reserve the rest of the dressing in a mason jar to use over the course of a week.
---