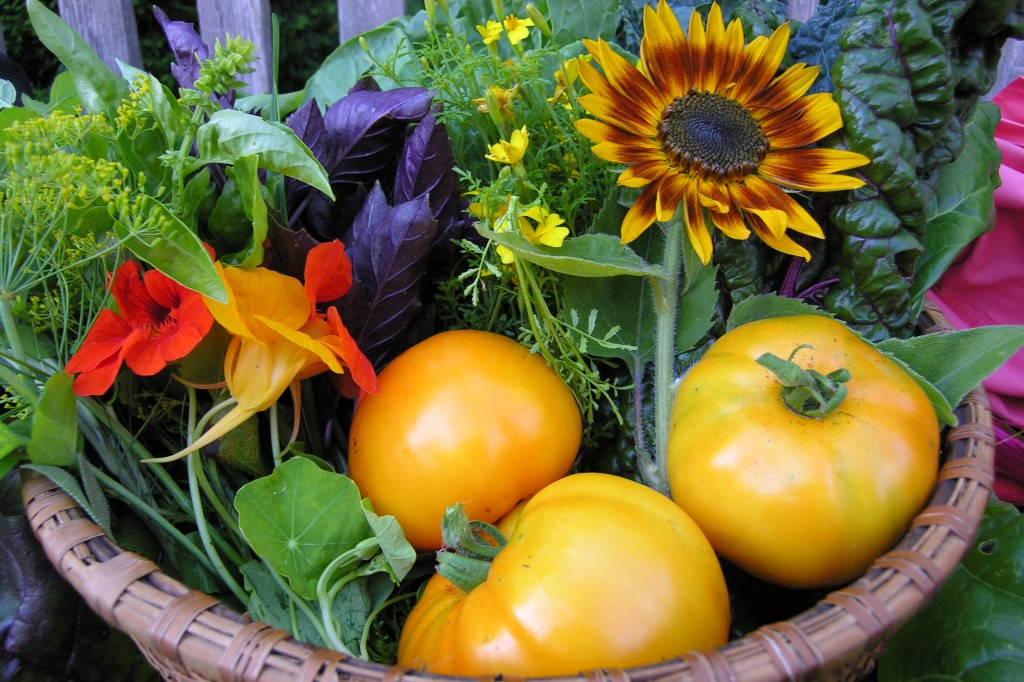 Heirloom Yellow Tomato Gazpacho with Basil
Makes 6 servings
Heirloom Persimmon tomatoes are my top pick for this unconventional gazpacho, which is both sweet and tangy as a traditional Gazpacho, with a hint of citrust from the orange or peach. Make it as spicy or mellow as you wish, depending on the amount of hot pepper you prefer Hand chop, or combine the ingredients in a food processor and whir until smooth. Chill, and serve garnished with lemon basil, croutons and edible flowers.
1 navel orange, or a peach – peeled and cut into 1-inch pieces
4 medium yellow Persimmon or Taxi tomatoes, coarsely chopped
2 sweet bell peppers, coarsely chopped
1 cucumber, peeled and coarsely chopped
1/2 sweet onion, finely chopped
1 clove garlic, minced
1/4 cup sweet basil leaves
3/4 cup olive oil
1/4 cup sherry vinegar
1/2 Jaleneno pepper, finely minced (or 1/4 teaspoon fiery hot sauce or Tabasco), to taste
To make the gazpacho, place orange, tomatoes, peppers, cucumber, onion and garlic in a blender. Pulse to coarsely chop. Add the basil, olive oil, sherry vinegar, Jalepeno or hot sauce and pulse to blend, either until smooth or keep a few chunks for texture. Cover and refrigerate until well chilled, at least 1 hour. Taste, and season with salt and pepper as desired. Serve the soup in chilled bowls, garnish with a sprig of lemon basil, pesto croutons, or a swirl of crème fraîche.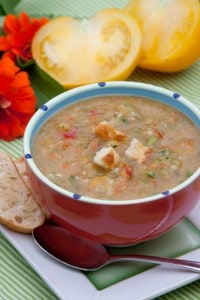 ---