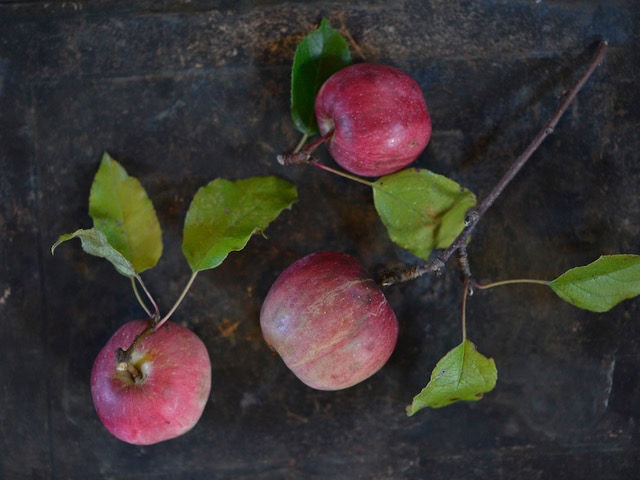 Heirloom Apples at Scott Farm
If you have ever stood in an orchard at the peak of peach season, inhaling the scent of ripeness, you'll never buy hard supermarket fruit ever again. Scott Farm preserves heirloom apples, plums and other fruits in Dummerston, Vermont. To get there, you cross over the Connecticut River on a covered bridge, turn through a small village with a white church and town hall, drive two miles on a dirt road through a national forest past Rudyard Kipling's historic 'Naulaka' and arrive at a series of old barns.
Zeke Goodband, orchardist, is the steward of this orchard, and shares the history of the orchard, now owned and preserved by the Landmark Historic Trust. " The house originated as a tavern in 1791, and was a local drinking hole for the community to rusticate" says Zeke. Drinking fermented wild apple cider was safer than water, and with plenty of wild apples it seemed the natural choice.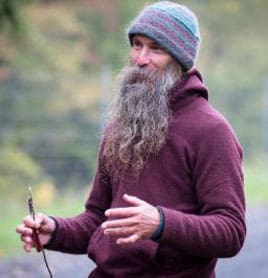 In the 1800's, the farm was purchased by the Holbrook family and run as a gentleman's farm, with a barn full of cows. " There is the creamery and cow barn," he says, pointing downhill to a tall stately naturally aged barn, " The floors are made of cork for the comfort of the cows legs." Cork was also used as insulation in the coolers to keep the apples and other fruits at the optimal temperature just above freezing.
Outbuildings proliferated including a horse barn, a carpenters shop, a mechanics shop and sawmill, and Scott Farm soon became the largest employer in the valley. By the end of the 1800's there were thousands of varieties of apples, and millions of wild trees that were pressed into cider, and in 1911, the farm switched from dairy back to raising apples, primarily Dutchess, Northern Spy, Macintosh, and Canadian strains that would weather in the cool Vermont valley. During the last half of the 20th century, the orchard expanded, yet the price of apples was so low that it was not able to support the crop and the trees suffered.
When Zeke arrived at the farm in 2001, the price of apples was $4.15 per bushel, yet the price to produce was $6. He walked the orchard, where the trees were mostly overgrown into a tangle of branches, and even though his background was not in agronomy, (he studied Chinese History in college), he knew instinctively what needed to be done. Cutting the trees below the branch line down to the trunks, and spliced small branches or scions from heritage varieties, inserting them into the open tree trunks or more vigorous trees, and stepped back to allow the heritage varieties trees to develop.
After a few years of waiting and lots of patience, the result of his grafts is a crop of apples that more closely reflected his own personal favorites. Heritage varieties such as Darcy Spice and Blue Permaine that were crisp and sweet, but not cloying sweet like the well-known Honeycrisp.
At Scott Farm, he prefers to use not herbicides, instead preferring to allow the nature cycle of the birds and bugs to work in harmony. "I call it ecologically grown" says Zeke, who is a deeply tanned from the hours spent outdoors. He encourages birds to nest, and mows infrequently to enhance the biodiversity and create a stable ecosystem.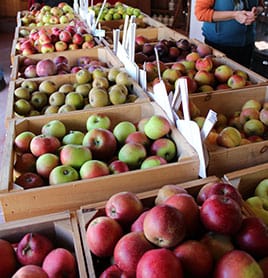 Choosing apples based on flavor is a priority, which most often means the older varieties which have a specific use – either cooking, or fresh eating, or storage to make cider during the winter months. Harvest begins in mid-August for the early varieties which are often tart, yielding to sweeter then to long lasting storage types.
At Scott Farm, he grows a diverse crop of fruit, yielding 80% apples, 20% grapes, quince, peaches, plums and apricots. Truth be told, plums are his favorite. "If I were starting out as a farmer again now, I might just grow plums." He admits. Why plums? " A lot of what we eat triggers memories. Plums taste like my childhood, and are more complex in flavor than an apple." They are also picked at the peak of ripeness, and won't ripen once they are picked, which means the season can be long. His favorites? Santa Rosa, Mirabelles and Green Gage.
Fruit has been harvested for the year, and is available in cold storage at the farm and in local stores and food co-oops throughout New England. Visit www.scottfarmvermont.com.