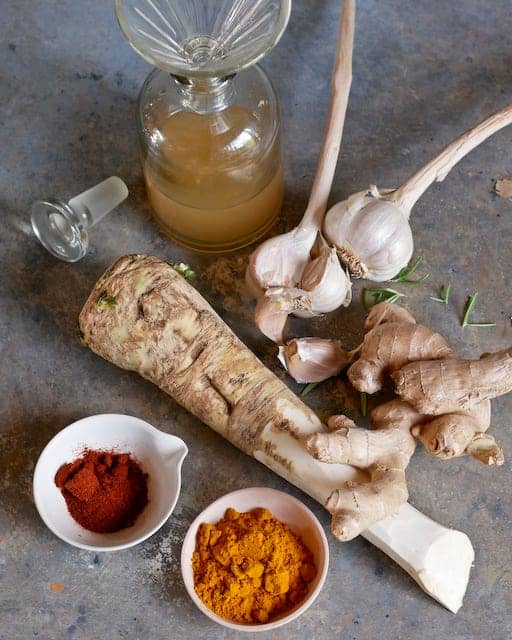 Perhaps you grow horseradish, purely for the green ornamental leaves that resemble tropical plants. The real action happens underground, and this time of year is when horseradish appreciates digging up and dividing. Rather than tossing the extra roots onto the compost, or giving them to a friend, try making these two old-time recipes that are guaranteed to fend off a cold, and boost your immune system.
1. Horseradish Condiment 
Homegrown horseradish is twice as strong as store-bought, the pungent punch of fresh horseradish goes directly to clear out the sinuses. Easy to grow and prepare, the trickiest part is keeping it contained in the garden. It is best grown contained inside a terra cotta drainage pipe buried deep in the ground. Harvest anytime by digging up with a shovel, and snapping off a root to make this condiment; replant the rest of the root for the following year.  Ground horseradish is potent and can make your eyes water, so be prepared.
An 8-inch long piece of horseradish root
3 tablespoons cup white vinegar
Pinch salt
With a sturdy shovel, dig up the horseradish, break off a piece of the root and replant the rest. Remove any leaves, rinse under water, and peel off the surface skin, then chop into ½ inch pieces. Place in a food processor fitted with a blade, along with the vinegar and salt. Pulse until finely ground, and adjust with more liquid if necessary. With a rubber spatula, transfer the grated horseradish to a jar. Spoon out to use in recipes. It will keep for a month or longer, yet may turn brownish.
2. Fire Cider | Makes 1-quart jar
Where food and medicine meet, fire cider is an old-time remedy that boosts the immune system. Drink a shot glass every day, or add to salads, it feels hot going down and in your stomach. For centuries was known as poor man's penicillin, because it is the ultimate flu and cold remedy, heating the circularity system from the inside out. Proportions are not strict, so make it as you wish.
½ cup fresh grated ginger root
½ cup fresh grated horseradish root
1 onion, chopped
10 cloves garlic, crushed and chopped
1 hot pepper, chopped
1 lemon, juiced
1 Tablespoon turmeric powder
2 Tablespoons rosemary leaves
¼ teaspoon cayenne powder
1 quart apple cider vinegar
¼ cup raw local honey
Prepare the roots and herbs and place them in a quart glass jar with a lid. Pour the apple cider vinegar into the jar until all ingredients are covered and the vinegar reached the top.  Shake well. Cover with cheesecloth, and store in a dark, cool place for a month, shaking as often as you think about it.
After one month, strain through cheesecloth and pour the vinegar into a clean jar. Squeeze out the liquid from the ingredients when straining to make sure you have captured the essence. Stir in the honey, until incorporated.