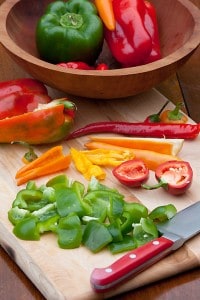 Spending time outdoors with a purpose is perhaps the greatest joy of gardening. As a child, I lived in my tree house – yet sometimes it got lonely up there in the trees. These words guide me as I stack the first of my six cords of firewood and divide my time between the kitchen, the garden and the computer – and loving every moment. Savoring the tail end of summer is essential, and every morning I make the rounds to admire the powerful long stems and dainty white flowers of the Cimicifugia which has reached a staggering height despite the howling wind and rain of the past week. Fall asters are beginning to show color, a surprisingly bright shade of pink in contrast to the billowy hydrangea pompoms that still attract a bevy of bees and butterflies.
While harvesting leeks and onions, I discovered a cache of ripe Cayenne peppers which are now simmering on the stove top, filling the kitchen with a hot, spicy aroma. Hot pepper jelly is not for the timid, nor for toast. Try it as a spicy sweet condiment over a mild cheese or add a spoonful to stir fry for a powerful punch of heat.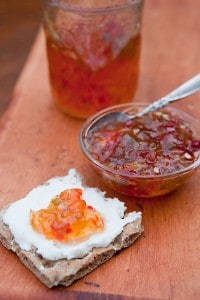 Hot and Sweet Pepper jelly
Makes 6 pint jars
12 mixed hot peppers (about 1 cup chopped)  a mixture of cayenne, habernero, serrano, and jalepenos
4 sweet bell peppers, (about 1 cup chopped) yellow, green or red
2 cups cider vinegar
6 cups sugar
1 six- ounce package of Certo pectin
1. Trim the tops off the hot and sweet peppers, remove the seed and coarsely chop into small pieces. Place in the container of a food processor fitted with a steel blade. Pulse gently, leaving small chunks. Transfer back into a measuring cup along with any juice to measure out 3 cups.
2. In a deep kettle, combine the vinegar and sugar and bring to a boil, sitrring to dissolve the sugar. Add the peppers and bring to a full rolling boil. Stir in the liquid pectin, and bring back to a rolling boil, and stir for one full minute.
3. Remove from the heat. Pour into sterilized jars, leaving about ¼ inch room at the top. Wipe the tops clean and seal the jars. Flip upside down to seal and allow to cool. Label and store in a cool, dark place until ready to use.