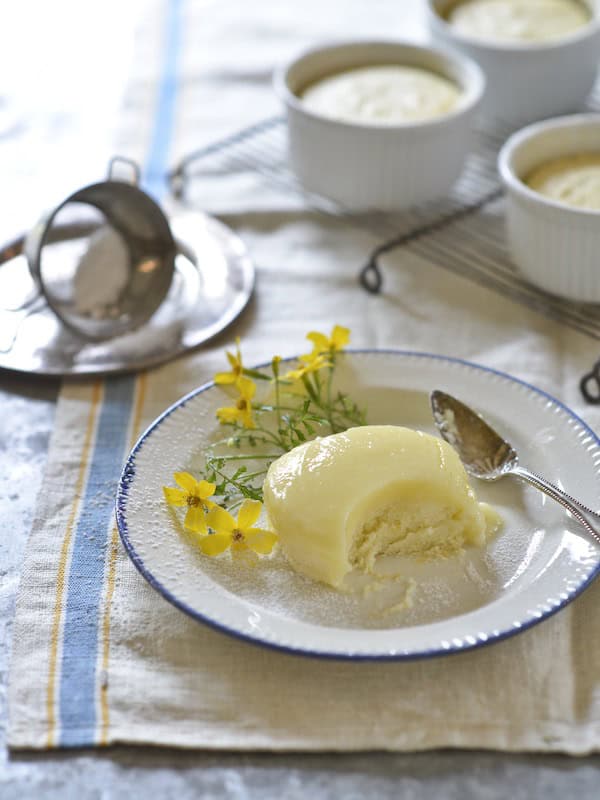 Lemon Sponge Custard Cups | Serves 6
If I had a lemon tree, I'd be making lemon sponge custard cups every day. These little gems come out of the oven like crustless lemon meringue pie with lemon custard that pools at the bottom waiting for the spoon. This recipe is from The Vermont Country Store Cookbook, published in 2014 by my co-author. Photography by Matthew Benson. Food Styling by Nora Singley. The book is available at the Vermont Country Store.
Ingredients:
4 eggs, separated
2 tablespoons unsalted butter, softened, plus more for preparing ramekins
1 cup sugar, plus more for preparing ramekins
4 tablespoons unbleached all-purpose flour
½ teaspoon salt
2 lemons (1 tablespoon grated rind) and (1/3 cup juice)
1 1/2 cups whole milk
Confectioner's sugar for dusting
Instructions:
Fill a large roasting pan halfway with water. With the pan inside, preheat the oven to 350°F. Use 1 tablespoon to butter the six 6-ounce ramekins or 8-inch round or square souffle dish and lightly sprinkle with sugar.
In a large mixing bowl for an electric mixer fitted with a whisk, whip the egg whites until stiff. Transfer to another bowl and set aside. In the same mixing bowl wiped out, cream butter with the sugar, then add the flour, salt, and lemon juice and rind.
Slowly add the egg yolks and then stir in milk, whisking until well blended. Gently fold the egg whites into the mixture by hand, with a large spoon or whisk. Spoon into ramekins and place in a pan of hot water that comes halfway up the side of the ramekins.
Bake for 45 minutes. Remove from the oven and the hot water and let cool for 5 minutes. Run a knife around the inside edge of each ramekin and flip onto a plate; dust with confectioner's sugar and serve.