Print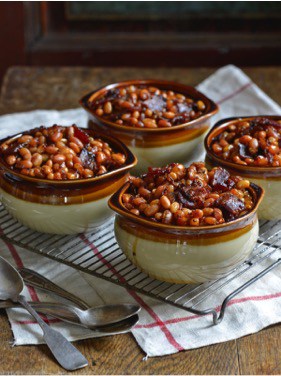 Maple and Molasses Baked Beans
---
Description
 My recipe is the perfect blend of sweet, with real bacon instead of pork fat, molasses instead of sugar, and a bit of Tabasco to give it a kick. Soaking beans then cooking them takes a bit of time, so plan on starting the soaking early in the day or the night before. Baked beans can be kept in the refrigerator for a week, or frozen and reheated.
Once a staple in every kitchen, the cast-iron Dutch oven is especially useful for one-pot meals or these baked beans. Another advantage? You can cook, store, serve, and easily carry anything you cook in a Dutch oven to a potluck or the table for a family-style dinner. Of course, if you have traditional individual bean pots, use them for the final bake, adjusting the cooking time down to about 40 minutes.
---
Scale
Ingredients
1 pound dried beans – Navy or Pinto are traditional
1 tablespoon plus 1/2 teaspoon salt
2 cloves garlic, minced (1 teaspoon)
2 medium onions, chopped (2 cups)
2 bay leaves
1/2 pound thick-cut bacon (6 slices), cut into bite-size pieces
1 cup packed dark brown sugar
1 cup dark unsulphured molasses
1/2 cup apple cider vinegar
1/4 cup country-style Dijon mustard (regular mustard will do, too)
1 tablespoon Tabasco sauce
Freshly ground black pepper
---
Instructions
Place the beans in a 6-quart stockpot and add boiling water to cover by 2 inches. Add 1 tablespoon of the salt, stir, and leave to soak for 2 hours or overnight. Drain in a colander, then return the beans to the wiped-out stockpot, add water to cover by 2 inches, and the remaining 1/2 teaspoon salt. Add 1/2 teaspoon of the garlic, 1 cup of the onion, and the bay leaves. Simmer over low heat, slightly covered, for up to 1 hour, or until the beans are tender but not falling apart and the water has been mostly absorbed. Removed from the heat. Place a colander over a medium bowl. Drain the beans, reserving any liquid in the bowl. Remove the bay leaves.
Preheat the oven to 325°F and position a rack in the center.
In a cast-iron Dutch oven or large pot, cook the bacon over medium-low heat until most of the fat has rendered, but the bacon is not yet crisp about 15 minutes.
Add the remaining 1 cup chopped onion and 1/2 teaspoon garlic and sauté until soft, about 5 minutes. Add the brown sugar, molasses, vinegar, mustard, and Tabasco. Stir in the cooked beans, a good grinding of pepper, and just enough of the reserved bean liquid, up to 1 cup, to make a slightly soupy mixture.
Cover and bake for 1 hour, or until the beans are thick and look dark and glazed. Check at the 45-minute mark to see if they need more liquid, and stir in 1/2 cup of the bean liquid or water, if needed. Taste and adjust the seasonings. After an hour, taste, and if beans aren't completely soft, return them to the oven and bake for up to 30 minutes more, until soft. Remove from the oven and keep covered until ready to serve.
---