Gardening like a Cook: Everything in Place.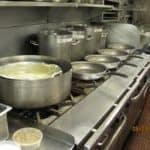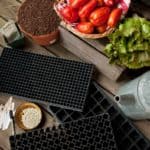 Mise en place is a French phase defined the Culinary Institute of America as "everything in place," used in professional kitchens to organize and arrange the ingredients. Herbs and spices, freshly chopped fresh and par boiled vegetables, sauces and stocks. Setting up a lot of little bowls with ingredients makes cooking look easy, and helps to follow a recipe. However nice it sounds, this is not how most of us actually cook, and not how we garden either. But the theory is sound.
It's nice to think that I am creating Mise en place instead of simply puttering, while I take inventory of seed packets, organize the garden shed, stack plastic pots and ready the seedling trays.  Contemplating next years garden in my mind is like reading the recipe: everything I do in advance will help to make it all that much better in the spring.
Getting started in the season, it helps to set up Mise en Place and garden like a cook. After all, the two go hand in hand. Explore designs, recipes and fresh ideas for making the most of your kitchen garden. To sign up for my on-line garden design and cooking classes, please follow this link.