Old-Fashioned Jelly Roll


Makes One (delicious) Jelly Roll

It's jam season again. I'm stirring and simmering pots of fruits to fill jars full of sweet spreads. Finding other ways to use jam besides only on toast, might include this recipe for an fashioned jelly roll.  My recipe for old-fashioned jelly roll calls for a soft, delicious sponge cake with a hint of lemon in the batter, slightly undercooked so it rolls easily. There was an era when all good cooks owned a jelly roll pan, but if you don't have one in your cupboard, a rimmed baking sheet lined with parchment paper will do.

Print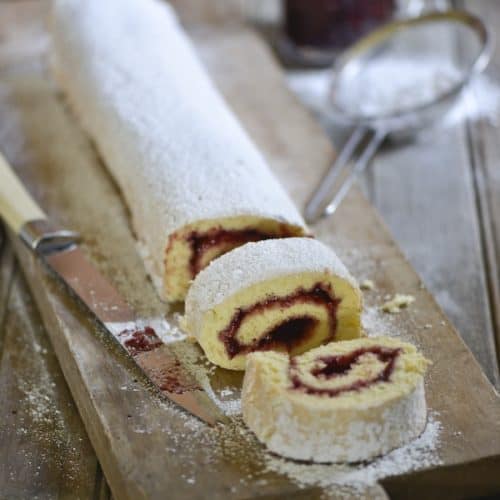 Old-Fashioned Jelly Roll
---
Scale
Ingredients
1 cup flour, plus more for dusting pan
¼ teaspoon salt
5 eggs, separated
1 lemon, juiced (2 tablespoons) and zested (2 teaspoons)
1 cup granulated sugar, divided
1¼ cups jam of choice
---
Instructions
Preheat oven to 350°F. Lightly grease a 15″ x 10″ x 1″ jelly roll pan ( Note: these come in different sizes, so adapt to what you have. You can also use a rimmed baking sheet with low sides) with butter or nonstick spray. Line it with a large piece of parchment or waxed paper, grease the top, and lightly flour, shaking off excess flour.
In a small bowl, stir together flour and salt. Set aside.
In another small bowl, beat egg yolks, lemon juice, and zest until thick and lemon colored, about 5 minutes. Gradually add ½ cup of the sugar to the egg yolks while beating constantly until all is incorporated.
In a large mixing bowl of an electric mixer fitted with the whisk, place the egg whites and beat until they are foamy; add the remaining ½ cup of sugar gradually, continuing to beat until stiff peaks form and the whites are glossy.
With a wire whisk or plastic spatula, fold egg mixture into the whites, then gently fold in the flour mixture until all is combined. Pour batter into prepared pan.
Place in the oven and bake for about 10 minutes, or until lightly browned. Keep an eye on it so it does not get overly browned, which would make rolling it up difficult. Remove from the oven and while warm, run a knife around the edges of the cake and invert on a kitchen towel dusted with a few tablespoons of the confectioner's sugar.
Remove parchment or waxed paper from the cake. Carefully roll the cake in the towel starting at the short end, and with the seam down, cool completely.
When cool, carefully unroll the cake, remove the towel, and spread the cake with the jam, leaving a half-inch border around the cake. Roll the cake up again, and place seam side down on a serving dish. Dust with more confectioner's sugar before serving.
---