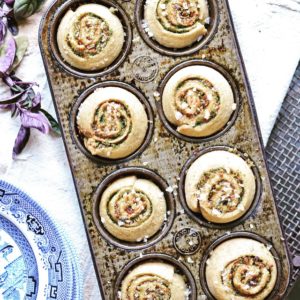 Basil is summer. Shredded fresh on tomatoes, added to salad, spooned over steamed vegetables or chopped into mayonnaise for burgers and grilled cheese sandwiches.
Yet my favorite way to eat basil is to make pesto, fresh on pasta or in this Pesto Swirl bread. It's easy! Make a batch of pesto, and spread it over a simple french bread dough, then roll it up. Leave whole like a long French baguette, or cut into pieces for rolls as pictured here.
Impressive to bring to a potluck party, plus ideal finger food for all ages and divine to eat. The buttery, basil interior unfolds like a cinnamon bun. It can be made year round, with frozen pesto, but it's best this time of year with a fresh batch.
Discover the wide word of basil – there are over 80 different types you can grow! Find a space for lemon basil, cinnamon basil, Thai basil, or mammoth basil which grows a large lettuce leaf and you can wrap a piece of fish and grill to infuse the flavor. Try Piccolo Verde basil, which is the classic Italian pesto basil, with tiny piquant leaves, or Sweet Genovese, the true Italian heirloom. Pesto can be made with other herbs, too, even a bit of scented basil, oregano, rosemary, or thyme adds a new dimension.
On this last week of summer, invite friends over for memorable potluck, and serve this fragrant bread along with a bowl of fresh Gazpacho, and peach pie for dessert.
Basil Pesto
Makes 1 1/2 cups
2 cloves garlic, coarsely chopped
2 cups packed fresh basil leaves, rinsed and towel-dried
1 cup packed fresh Italian flat-leaf parsley
1/4 cup walnuts, lightly toasted
1/4 cup freshly grated Parmigiano-Reggiano cheese
1/2 cup extra virgin olive oil
Salt and freshly ground pepper, to taste
In the bowl of a food processor, combine the garlic, basil, parsley, and pines nuts. Purée until blended. Add the cheese and pulse to combine. With the motor running, slowly add the oil to make a creamy paste. Season with salt and pepper.
Bread Dough
One Loaf
One 1/4-ounce package (2 1/2 teaspoons) active dry yeast
1 teaspoon sugar
1 1/2 cup warm (105°F–115°F) water
4 tablespoons (1/2 stick) unsalted butter, melted and cooled to lukewarm
1 teaspoon sea salt
5 cups unbleached all-purpose flour, as needed
Oil for baking pan
1 1/2 cups Basil Pesto
Sprinkle the yeast and sugar over the water in a large bowl. Let stand until the mixture looks foamy, about 10 minutes. Stir in the butter and salt. Gradually stir in enough of the flour to make a stiff dough. Turn out onto a lightly floured work surface and knead, adding more flour as required, until the dough is smooth and elastic, about 10 minutes. Gather the dough into a ball.
Lightly oil a large bowl. Place the dough in the bowl and turn to coat the dough with the oil. Cover the bowl with a damp kitchen towel, and let stand in a warm place until the dough has doubled in volume, about 1 hour. Punch down the dough, turn out onto a lightly floured work surface, and knead briefly.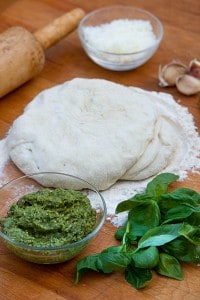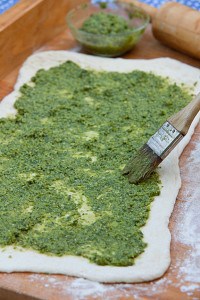 Divide the dough in half. Working with one section at a time, roll the dough into a rectangle 12 inches long and 8 inches wide. Spread the dough with the pesto, leaving a 1/2-inch border on all sides. Starting at the long end, roll up into a tight cylinder, pinch the seams closed, and pinch the long end closed.
Using a sharp knife, cut the loaves into 1-inch-thick rounds. Lightly oil two 12-cup muffin tins, and place 1 round of dough in each of the 24 cups. Cover the tins with a damp kitchen towel and let them stand in a warm place until the rolls look puffy, about 30 minutes.
Preheat the oven to 375°F. Place a rack on the center of the oven, and bake the rolls until golden brown, about 20 minutes. Remove from the oven and allow the rolls to cool for a few minutes before popping them out of the pan.